<!- - - topic #1 header - - ->
<!- - - topic #1 TEXT - - -> The web site ( www.bigwheelblues.com ) is updated more or less daily but recently a lot of new pictures and info has been added to the Artists pages section as well as the Sponsors page and the Mines 2004 page amongst others.

The Forum is now a month old and seems to be read by quite a lot of people but new messages are slowing a little. I suppose it will take a while to get going but your input is essential for this to become a useful resource and not just a gimmick. Gimmicks we don't want - a useful resource we do... So if you want to talk about a band, a guitar, a bass (already some interesting stuff here), drums, harps, an upcoming gig (or one you've just seen and we might have missed) let us know on the Forum at www.bigwheelblues.com/Forum

Watermelon Slim in a recent interview said that his appearance at the Big Wheel Blues Fest in May (just one of his many gigs on the recent UK tour) was his "best gig, ever" . You can see what he said at www.portlandblues.com . It really is worth a read.

On-line ticket booking and credit card payment facilities. Domicilium (the web specialists who provide support for all Internet Services for the festival including managing the Domain Name Services and Hosting the Web site) together with the Festival organisers are putting together an online package which will enable secure ticket purchase by credit card. This should make life simpler for all who want tickets for the 2005 Fest.

<!- - - topic #2 header - - -> GIG NOT TO MISS


<!- - - topic #2 TEXT - - -> The Centenary Hall in Peel has two more excellent gigs coming up in the very near future



The Angel Brothers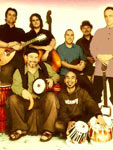 16th September: The Angel Brothers. This is a fascinating cultural combination of Indian and western musical input - an anglo/asian blend of bhangra, rock, dub, country and Idian classical. A powerful and fruity cocktail that should be sipped, savoured and enjoyed at the Centenary Hall in Peel. Check out their web site for details by clicking the following link www.angelsingh.co.uk . This is definitely one not to miss - phone (01624) 842264 to check on ticket availability



Adrian Byron Burns

23rd October: Adrian Byron Burns. Many of you will already have made a note of this gig as Adrian is well known to Blues lovers on the Island but to see what the critics/press have to say about him click here .

Tickets and more info from the usual number: (01624) 842264 and more info on upcoming events at The Centenary Hall Arts Centre is available by clicking here.



Enough already

Cheers

Chris
---
Visit www.bigwheelblues.com for much more information about Bushy's Big Wheel Festival 2004/5

The 2005 Festival is set for the weekend of the 13th May.

The annual Big Wheel Blues Festival is run entirely by volunteers and is a non-profit-making, fund raising event for charity and good causes. The Big Wheel Blues Festival is very pleased to acknowledge it's principal sponsors: Bushy's Brewery, Charterhouse Group International, The Shore Hotel, The Queens Hotel, The Riverside Music Room, Domicilium and The Manx Taverns Group without whom the festival could not take place.
---
To un-subscribe from this Newsletter please reply by clicking here with "un-subscribe" in the subject line.