Setting up...in the rain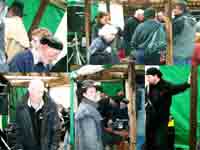 Rebels Without Applause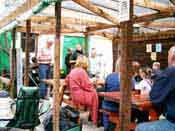 The Mines Tavern
Sunday in the sun 2003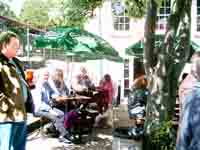 The Mines Tavern
Sunday in the sun 2003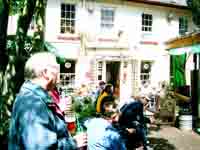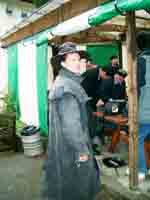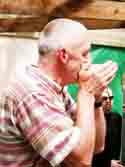 Saturday afternoon outside the Mines is traditionally the "run what you brung" session, with the addition of other acts who want to play shorter sets than can be accommodated on the bigger stages. The session started with Wossawudu? (answer; washing facilities) with Dave McLean on keys, Roger Leece on drums, Tim Davies on harp, Johnny Galbraith on bass and Steve Courtie on very expensive guitar. Dave Wade did vocals on a few despite the clouds of smoke coming from the barbecue! Kate Bass replaced the stricken Dave, treating us to some favourites such as "Got to Fly" and "Big Boss Man", and with Pete Woodman joining in on slide we enjoyed a revival of Rebels Without Applause. The band's musical spectrum includes jazzier standards such as Summertime, to classic Chicago and Country material.

Daniel Smith took over Dave Macs keyboards and gave a taster of what we could expect in the evening, namely solid boogie-woogie and rocking blues. The rain was pretty solid by this time, but the small audience was still enjoying the atmosphere. Jackie Oliver then did a short set including a classy (and not as croaky) version of Tom Waits' My Blue Valentine. She admitted to a severe bout of nerves but could have blamed it on the cold wet weather- it was getting worse and there was not much undercover space for the audience. Jackie has an excellent voice for blues, and is well worth watching out for. Robbie and Lee were next on performing a wide range of pop and indie material under the brand name of the One Man Van Band (don't ask me where the name comes from). The line up of drums and guitar may be unusual (White Stripes and who else) but Robbie can certainly play and sing some and he has the confidence to put the material over.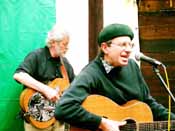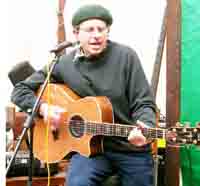 Sunday was supposed to be as wet as Saturday, but instead we had a couple of hours of beautiful sunshine before the showers. This attracted a fair sized crowd to the Mines for some great sessions by The Rebels without a Drummer followed up by Guy Tortora backed by Pete Woodman on bass. Guy plays some smooth slide guitar on mainly self-penned songs, none of which are straight twelve bars. Fortunately Pete was well up to the task, and showed off his handmade resonator bass (not many of those around) to some impressed potential customers. Robbie and Lee did a further set that was warmly received and got the audience joining in. The afternoon was rounded off by Lux, playing only their second gig. This is a very tight band, which is going to win over a big local following for their brand of slightly dark indie material. You'll have to be quick if you want to book them.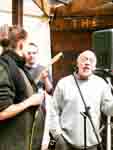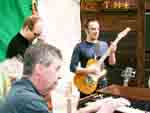 Ken Callister from "Soundcheck" did his usual solid job on mixing for the bands at the Mines- many thanks! The Red Cross bucket got pretty heavy by the end of the afternoon, showing just how much the crowd enjoyed the session.