Nick Cass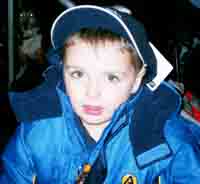 Ken Mitchell and Paddy Kirkman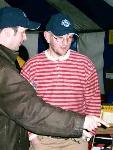 Rapt attention from at least one in the audience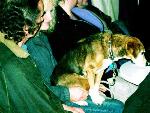 Soundman Andy (right - just) checks the weather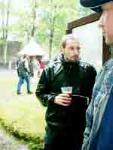 More of the audience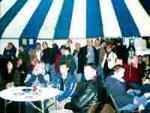 WELCOME TO THE BLACK'S FIREPLACES BANDSTAND PAGE
2003 GIG



Located in Laxey Electric Railway Station the free and, usally, open air Electric Stage, will this year be in the Charterhouse International Blues Pavilion. So no worries about the weather this time and a really great line-up of local and special guests all afternoon from 1.00pm through to 6.00pm

SATURDAY MAY 17 2003

AFTERNOON: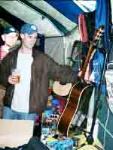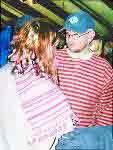 As rain threatened again, things in the Charterhouse Pavilion were entirely cool. Ken Mitchell (pictured right), as usual, set up the Peter Norris Music Display and there were some rather nice exhibits this year including a very interesting 1970 Gibson J45 which caught a few guitar players' attention including Paddy Kirkman (picture left). Liebezeit got into it at Midday in front of a small crowd which almost immediately began to grow and by the end of an hour most tables were full.

Those Dangerous Gentlemen arrived in time but without a bass player who was playing somewhere else in some other band. Such is life. Local musician and music retailer, Ken Mitchell, a fine guitarist and brass man, offered to step in. Liebezeit leant him a bass and the Dangerous Gents swung into action. A great set too with Ken's bass amazingly sure footed and Cameron Grey's harmonica sounding particularly sweet in the Marquee.

As they made way for the next band it was raining hard outside, but the Blues Pavilion was filling fast.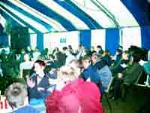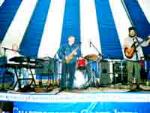 The Bar Toads (picture right) , featuring the Buttimore Brothers, Roger Leece on drums and Paul Oliphant-Smith on Sax hit the stage at 2.30pm and their unique brand of jazz, R'n B, rap and all, set the tent flaps a'flappin' for an hour. Dave McLean took over sound engineering duties whilst Anglin Buttimore was on stage both in the Pavilion and afterwards when the Bartoads gave the Queens Blues Marquee their "Frank Zappa" set.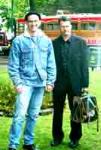 Six piece, Steamroller , were up next. "Steam" Turner and JR seemed unusually relaxed before the gig (click picture left) but on Saturday afternoon the whole band were firing on all six of their cylinders and we were treated to a solid hour of 12 bar quality. Late in the set they were joined by Maria Killeen on vocal. by which time the afternoon, sponsored by Black's Fireplaces of Laxey , was hot and the Blues Pavilion was packed (Pic. upper left). Outside it continued to rain...

Closing the afternoon action Re-Conditioned Blue hit the stage, guitar blazing. Bill Dawson's amp-on-10 tributes to SRV and Jimmi Hendrix had the air guitar players transfixed with delight and most of the rest of us too. The Black's Fireplaces Bandstand afternoon closed at 6.00pm and the Charterhouse International Blues Pavilion began to prepare for the evening session.....

Click here to return to the "home" page.