FESTIVAL FORUM
Debate, discussion and argument - gear, bands and gigs - it's your call
2004 FESTIVAL ARTISTES
The who's who of Festival 2004; pictures, links, the lot
ARTISTES
Many of the Fest bands and musicians who have appeared over the years Bio's, pic's and loads of info.
2004 GIG REVIEWS
Photo's and Gig Reviews of ALL the stages/venues of Festival 2004
PREVIOUS FESTIVALS
Vast archive of Photo's and Gig Reviews of Previous Festivals
POSTER 2004
The 2004 Poster is available free to download right now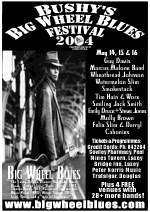 PROGRAMME 2004
What was on in 2004
All the bands, venues and times
ACOUSTIC STAGE
The "Acoustic Stage" (in reality an eclectic mix of music from Delta Blues to flat out rock) at The Shore Hotel has it's own website which is now updated with new pictures and info..
SPONSORS
Without our sonsors
there would be no
Fest - Who are these
generous people?
ISLE OF MAN BLUES CLUB
The Manx Blues Club; where the Festival sprang from
venue, dates, history etc..
TICKETS
The Festival is mostly FREE
but which stages require tickets?
Click here for all the info
ARTISTES
Bio's, pic's and loads of info on most of the artistes that have ever appeared.
VENUES
Info & Location
NEWSLETTER: SUBSCRIBE NOW - FREE
Be in the know...first
CONTACT US
Keep us in the know
MAP
Where is it? Here!
Includes Photo's of Laxey
TRAVEL
How to get to the Isle of Man
Stage: MAIN STAGE GIG REPORT 2003
Photo's and Report on the
Charterhouse International Blues Pavilion
Main Stage
Stage: ACOUSTIC STAGE
The Acoustic Stage has it's own web
site. You can check out: Previous
fest.s, pictures and details.
Domicilium: Internet Providers to the Festival

Bushy's Big Wheel Blues Festival 2003 is a fund raising event for the British Red Cross. Please give generously.

<! - - IMAGES HERE - ->

Liebezeit celebrate their first decade together at the Iron Pier, Ramsey in 2003. Click to enlarge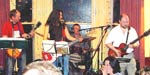 Liebezeit on the Queens Hotel Stage - Isle of Man Blues Festival 2004 - click to enlarge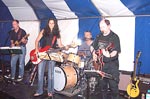 Alan - click to enlarge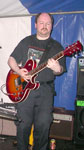 Peter - click to enlarge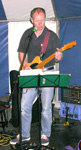 Carola - click to enlarge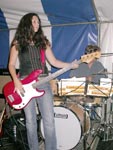 <! - - - EDITORIAL HERE - - - > Local band Liebezeit celebrated ten years together in 2003, having all met up in the spring of 1993. They are: Alan Pearson (bass guitar, lead guitar and vocals) Carola Colley (bass guitar, flute and vocals) Peter Maggs (lead guitar and vocals) and Dave Colley (drums, percussion and vocals).

Originally called The Fabulous Dixon Sisters they sported front man Mick Hegarty singing with them for the first two years, playing a laid back mixture of blues and soul in venues such as The Beach Hotel in Ramsey. A change of direction was soon to follow with Mick leaving to pursue other interests and the band re-inventing themselves as The Landcrabs.

From 1995 to 2000 they played at venues throughout the Island, including TT Week gigs at the Summerland Leisure Complex and the Villa Marina, as well as their regular slot at the Cul-de-Sac. By this time they were playing a tougher style of pub-rock and covering artists such as the Velvet Underground, The Tubes, Paul Weller and Iggy Pop.

Millennium Year saw another change of name and re-invention for the band, coming back after a six month lay-off under the name of Liebezeit. The band still performs their 'off the wall' choice of covers, but always entertain wherever they gig. Despite admitting that they are not really a blues band, they plan to perform a mellow set of blues and cool tunes at the festival.