FESTIVAL FORUM
Debate, discussion and argument - gear, bands and gigs - it's your call
PROGRAMME
What's on? Click to find out
All the bands, venues and times
ARTISTES
Many of the Fest bands and musicians who have appeared over the years Bio's, pic's and loads of info.
TICKETS
The Festival is mostly FREE
but which stages require tickets?
Click here for all the info
VENUES
Info & Location
ACOUSTIC STAGE
The "Acoustic Stage" (in reality an eclectic mix of music from Delta Blues to flat out rock) at The Shore Hotel has it's own website which is now updated with new pictures and info..
SPONSORS
Without our sonsors
there would be no
Fest - Who are these
generous people?
2004 FESTIVAL ARTISTES
The who's who of Festival 2004; pictures, links, the lot
2004 GIG REVIEWS
Photo's and Gig Reviews of ALL the stages/venues of Festival 2004
PREVIOUS FESTIVALS
Vast archive of Photo's and Gig Reviews of Previous Festivals
ISLE OF MAN BLUES CLUB
The Manx Blues Club; where the Festival sprang from
venue, dates, history etc..
NEWSLETTER: SUBSCRIBE NOW - FREE
Be in the know...first
CONTACT US
Keep us in the know
MAP
Where is it? Here!
Includes Photo's of Laxey
TRAVEL
How to get to the Isle of Man
Domicilium: Internet Providers to the Festival

Bushy's Big Wheel Blues Festival 2003 is a fund raising event for the British Red Cross. Please give generously.

<! - - IMAGES HERE - ->

Module CD5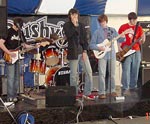 Psillobian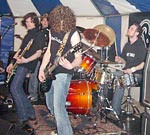 Sheds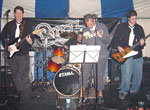 Shades of Purple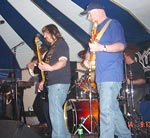 Determined Minds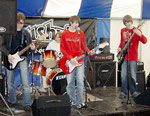 Dirty Frank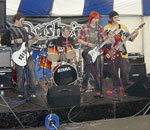 Calcia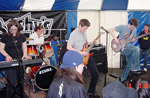 Stinging With Bigness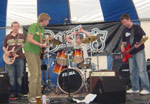 Longshot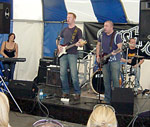 StoneChase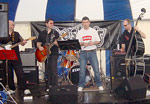 Vanguards of Justice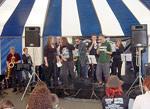 Adrenaline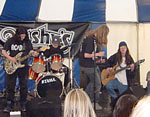 Diploma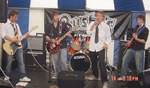 <! - - - EDITORIAL HERE - - - > So here's the view from the Shed.

This was the first year for The Indie Tent, and despite the tremendous interest on the manxbands site, we had no idea it would be SO popular.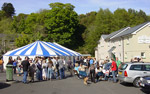 The amount of people both in and outside the tent, and spread across the football field throughout the day, was absolutely fantastic and more than any of us dreamed of.

We tried our best to bring variety across the two days, but also to give opportunities to many of the younger bands to try out material in a large public venue and I think we succeeded on both counts. So, to the acts:

Friday Night

The openers for the first ever Indie Stage at The BIg Wheel Blues Festival were Module CD5 – these boys have been around a while now, and their set was a mixture of originals and covers, and for me The Hives "Die alright" was storming. Romero experienced some problems on stage, and it was a great shame that we didn't get to see them in full swing, but their early songs in the set sounded great out front. Psillobian , a UK band, brought us a heavy set and free key rings, a real change in mood, and you can see why these guys are a popular act across… tight, confident and adapting quickly to this "plug in and play" scenario we gave them. The Shedmen followed with their late 70's punk set, "Passenger" got a few people up dancing, at least. Shades of Purple topped the bill on Friday night, and the musicianship was phenomenal with faithful renditions of all the Deep Purple classics– these guys really should gig more often.

Saturday:

Saturday was a marathon, a very enjoyable one. Starting at 1pm, Steve Leonard treated us to a solo routine including the inevitable "Move it" and "Just 17" – we love him, and it seemed right to start the day off, at least, with a bit of Blues! Next up Red Stripes , and a chance for Mil 1 to show us what he could do with the drum kit he had supplied for the event. These guys are close to becoming a Green Day tribute band (4 of their songs in a 30 minute set!) - maybe The Green Stripes would be a more fitting name.And so to Determined Minds , a young band with 30 minutes of raw energy. Teenage Kicks was the pick of the crop. Dirty Frank were up next, and despite their nerves they played really well, and it was impressive to see some instruments swapping around. Some good original material in the set, and potential for the future – keep at it, guys! Calcia took to the stage and blew the crowd away, straight from the off. Some tremendous guitar work, and a Led Zeppelin medley which went down like crazy – sorry to see the keyboard collapsing on stage – but the guys played on regardless, and got a great reception. Stinging with Bigness arrived and changed the mood with their mellow tuneful sound – Stuey, those keyboards sound the business! I felt a bit guilty kicking them off stage, but their time was up, and I had a schedule to run. Go see these guys do a full set sometime, they have some quality material. We weren't quite prepared for the next band, Longshot . It was their debut in this line up, and from the first song "Kiss" they got hold of the crowd and brought them along with their nod to 60's and 70's commercial pop, delivered with great panache…. and the farewell song of "500 miles" was a great way to bow out. This stage hoped to cater for everybody, so Johnnie Gee turns up next, with Stonechase , and gave us 45 minutes of pure Rock and Roll… and that double bass is something else, a quality set and again getting a great reaction within the tent. We then had a change of mood again – The Vanguards of Justice , put together by Jerry Carter , had something like 11 people on stage, and banged out a handful of soul classics to a startled, but delighted audience. There was a full brass section bellowing out a lovely collective sound, particularly on "Mustang Sally" and even Dave Wade got up on stage for the encore and joined in the fun. Priceless! Adrenaline were next up, and despite Ray's disappointment afterwards, played well to an enthusiastic crowd – a grunge version of Oasis' Wonderwall got the best reception and the only disappointment for me is that they didn't have more material ready – keep it going Ray, they love you! Diploma were a late edition to the schedule, and they didn't disappoint. Boy, are these young guys confident! Real lively raucous stuff and some real showmanship, and their finale of "99 red balloons" was both surprising and extremely entertaining. Shades of Purple came back for a second set, followed by The Shedmen to do their "set up the final act" routine, opting for their modern punk set, which went down well, mainly due to Diploma leading the dancing at the front! "Burn baby burn" seemed to go down best. Jimmy's hair was a triumph, and in terms of performance, I have to say that is the best The Sheds have played in their 13 year existence. Top of the bill? Twisted Angels . These girls are going places. A blistering set of mainly original material. The tent was absolutely packed to the rafters, and they got a great response to everything they played (personally, I love their rendition of Eye of the Tiger!). They have a new album out next month – I urge all lovers of manxbands to buy it and play it repeatedly.

So that's it. An absolutely fantastic festival, and a great opportunity to see a shed-load of different bands and appreciate all kinds of good quality music. My grateful thanks to everyone at Laxey Football Club for all their hard work in putting the venue together, the organisers of Bushy's Big Wheel Blues Festival, allowing us "the keys to the tent" to book the acts, all the performers, and particularly Jimmy, Danny and Martin from Module CD5, for allowing us to use their equipment for the backline.

Will we do it again next year? Let's hope so!

Review by Stewie Mills.