FESTIVAL FORUM
Debate, discussion and argument - gear, bands and gigs - it's your call
2004 FESTIVAL ARTISTES
The who's who of Festival 2004; pictures, links, the lot
ARTISTES
Many of the Fest bands and musicians who have appeared over the years Bio's, pic's and loads of info.
2004 GIG REVIEWS
Photo's and Gig Reviews of ALL the stages/venues of Festival 2004
POSTER 2004
The 2004 Poster is available free to download right now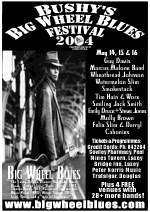 PROGRAMME 2004
What was on in 2004
All the bands, venues and times
ACOUSTIC STAGE
The "Acoustic Stage" (in reality an eclectic mix of music from Delta Blues to flat out rock) at The Shore Hotel has it's own website which is now updated with new pictures and info..
SPONSORS
Without our sonsors
there would be no
Fest - Who are these
generous people?
ISLE OF MAN BLUES CLUB
The Manx Blues Club; where the Festival sprang from
venue, dates, history etc..
TICKETS
Which stage requires tickets?
Click here for all the info
VENUES
Info & Location
NEWSLETTER: SUBSCRIBE NOW - FREE
Be in the know...first
CONTACT US
Keep us in the know
MAP
Where is it? Here!
Includes Photo's of Laxey
TRAVEL
How to get to the Isle of Man
Domicilium: Internet Providers to the Festival

Bushy's Big Wheel Blues Festival 2003 is a fund raising event for the British Red Cross. Please give generously.

<! - - IMAGES HERE - ->

The Charterhouse Group International Main Stage at the Riverside Music Room - 2004 - Smokestack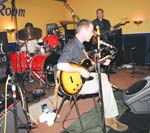 The Charterhouse Group International Main Stage at the Riverside Music Room - 2004 - Guy Davis & Watermelon Slim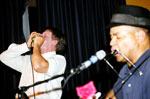 The Bridge Inn - 2004 - Emily Druce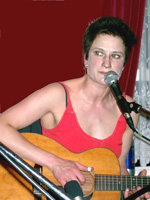 The Mines Tavern - 2004 - StoneChase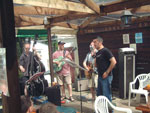 The Queens Hotel - 2004 - Felix Slim & Darryl Williams with Walter Ego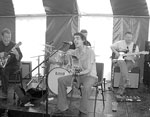 The Shore Hotel Acoustic Stage - 2004 - Molly Brown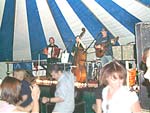 The Shore Hotel Acoustic Stage - 2004 - Truman Falls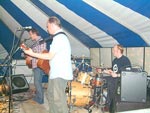 The Bandstand Sessions at the Riverside Music Room - 2004 - Walter Ego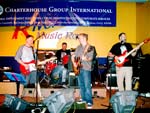 The Bandstand Sessions at the Riverside Music Room - 2004 - Steamroller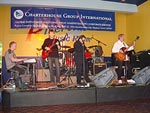 A montage of images from the Main Stage 2003 - click to enlarge

Some of the audience in the Main Stage Marquee 2003 - click to enlarge

Steve Ajao 2003- click to enlarge

<! - - - EDITORIAL HERE - - - > The 2005 Festival was the biggest weekend in the Festival's history with a record number of venues and bands. The weather was excellent and despite the Main Stage having to be relocated at the 11th hour and the 59th minute it was a fabulous weekend.

You can check out every venue and every band by clicking here.

The 2004 Festival was feast of live music held in glorious Spring sunshine and warm evenings. You can check it out by clicking on any of the links below
The 2003 Festival was the fifth birthday of Bushy's Big Wheel Blues Festival and we celebrated in style.

The weather started out in May 2003 with glorious sunshine day in and day out until the week before the Festival and then it started to rain. Marvellous. However all the venues were covered and so things went on excatly as planned and all the ticketed venues sold out and the Free stages were, as usual, packed. On Sunday afternoon we had a brief respite from the rain and the outdoor sessions at The Mines were, for the most part, bathed in sunshine which was great after all the wet.

Nevertheless it was a thorougly enjoyable weekend and you can check out the various stages by clicking on the links below:

What was on in 2003
Click separate button above left for 2004 Prog


Photo's and Report on the
Charterhouse International Blues Pavilion
Main Stage - 2003


The Acoustic Stage has it's own web
site. You can check out: Previous
fest.s, pictures and details back to 2002


A Free Stage - in the Blues Pavilion, Laxey Station - 2003


A Tickets-Only Stage


A Free Stage


A Free Electric Stage