FESTIVAL FORUM
Debate, discussion and argument - gear, bands and gigs - it's your call
PROGRAMME 2005
What's on in 2005?
All the bands, venues and times
TICKETS
Which stage requires tickets?
Click here for all the info including eTickets
ARTISTES
Many of the Fest bands and musicians
who have appeared over the years.
Bio's, pic's and loads of info.
POSTER 2005

2004 FESTIVAL ARTISTES
The who's who of Festival 2004; pictures, links, the lot
2004 GIG REVIEWS
Photo's and Gig Reviews of ALL the stages/venues of Festival 2004
PREVIOUS FESTIVALS
Vast archive of Photo's and Gig Reviews of Previous Festivals
FESTIVAL SITE - MAP
The Festival Site map is interactive - click on any of the details for more info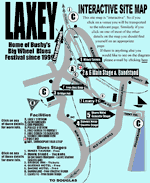 ACOUSTIC STAGE
The "Acoustic Stage" (in reality an eclectic mix of music from Delta Blues to flat out rock) at The Shore Hotel has it's own website which is now updated with new pictures and info..
ISLE OF MAN BLUES CLUB
The Manx Blues Club; where the Festival sprang from
venue, dates, history etc..
VENUES
Info & Location
NEWSLETTER: SUBSCRIBE NOW - FREE
Be in the know...first
CONTACT US
Keep us in the know and tell us about broken links, bands, gigs & any other news
MAP
Where is it? Here!
Interactive Festival Site Map
Includes Photo's of Laxey Village
TRAVEL
How to get to the Isle of Man
2003 GIG REVIEWS
Check the 2003 Festival and all the Gig reviews with a stack of pictures too
SPONSORS
Without our sonsors
there would be no
Fest - Who are these
generous people?
Lady Isabella - the Great Laxey Wheel keeps on turning...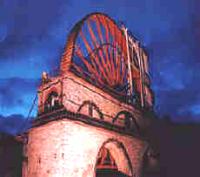 Set high on the hillside towards the hamlet of Agneash and overlooking Laxey Village is the Great Laxey Wheel and is as much associated with the Isle of Man as are the cats without tails. Built in 1854 the Laxey water wheel, known as the Lady Isabella after the wife of the Lieutenant Governor of the island at the time, was designed by the Manx engineer Robert Casement and engineered to pump up to 250 gallons of water per minute at a depth of almost 1,500 feet from the workings of the the lead and zinc mines operated by the Great Laxey Mining Company. In 1965 the Manx government bought the water wheel and the restoration work which followed, preserved it for future generations. Since 1989 it has been under the control of Manx National Heritage and is open to the public.
Click logo for Info and news about manx bands and musos

Blues in Britain Magazine
Check it out


Click to check timetables etc
and to book on-line

Click to check timetables etc
and to book on-line

Click to check timetables etc
and to book on-line
A3 Island Marquees Ltd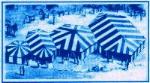 Bushy's Brewery supporting
the Fest since the last century.

Millichaps Furniture Store - Ramsey

Domicilium: Internet Providers to the Festival

PDMS: On-Line Service Providers to the Festival

Absolute Scaffolding - Blues Marquee Stage

Laxey Garage & Manx Motor Auctions

Manntax of Laxey - tax advisers

Triskel Promotions - Live Music Promotion & Support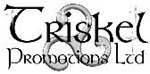 Road & Track for Motorcycles and Motorcycle Gear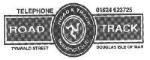 Laxey Chemist: medicines, gifts, films, perfumes and toiletries

The Country Shop of Laxey

Bushy's Big Wheel Blues Festival 2005 is
a fund raising event for the British Red
Cross. Please give generously.

Quine & Cubbon Printing & Plate Making Services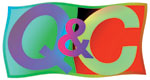 <! - - - Main text HEADLINE goes here - - - > Main Stage - Friday 2005

<! - - - IMAGE HERE- - - >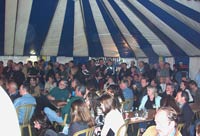 <! - - - HEADLINE ENDS here - - - > <! - - - MAIN TEXT GOES HERE - - - > When the original venue for the Main Stage was lost to us just two weeks before the Festival when the owner had his licence revoked we had a tricky fortnight. The day before the Festival the Licencing Court issued a licence to Derek Black-Kay who had stepped forward to run the bar for us, we had been given a lovely big stage by Absolute Scaffolding and The Village Workshop, A3 Marquees found a bigger tent for us and Bushy's had provided the bar and all it's equipment not to mention it's stock. Everything was in place by Friday May 13 2005 and by 5.00pm all the tickets had been sold for the first night of the Main Stage Gigs. It seemed impossible but it really was all on and we were raring to go.

So, Friday Night.

The Main Stage has always had three bands per night all invited from around the world. This year we decided to give an opportunity to a deserving and different local band to open each night and this paid us dividends, but big time.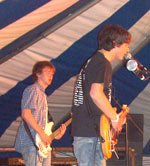 A sold out gig, beautiful weather and the first night of the Festival got off to an absolutely wonderful start with Back Door Slam taking to the Main Stage in their first ever Big Wheel Blues Fest gig. There was a roar from the crowd that I don't think that I have ever heard before.The sound was perfect and the vibe was palpable as the band hit their stride from the very first note...and continued throughout their varied, measured and beautifully constructed set consisting of interesting covers, some world class originals and all of it played to the highest standards. Let's not ever again say "for their age" when talking about Back Door Slam . Never mind their age it simply does not get any better than this, but you know something? If these guys keep at it, itcertainly will get even better...and that's a scary thought.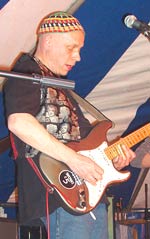 Veteran Bluesman Tim Hain had his flight cancelled last year at the last minute and had been determined to make this year's event so, cautious to a fault, flew over a day early.

Getting to the Island early allowed him to squeeze in a rehearsal (with local top flight rhythm section Danny Kneale - Drums and Andy Radcliffe - Bass and keyboard and violin player Roy Baker ), a radio interview, a spot of sightseeing and catching up on old times. But he had the job on following the fabulous reception given to Back Door Slam but unfazed, confident and much experienced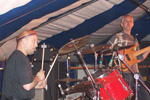 he and his rhythm section stepped into the lights and delivered a faultless performance that caught the imagination and attention of the audience who were very soon up dancing and singing along. When he finished a terriffic set of covers and first rate original work with Bob Marley's "No Woman No Cry" (OK, OK it may not be the Blues but this is one of the great songs in the pantheon of 20th century music) even those of us not given to singing were joining in on the chorus. It was well worth the 12 month wait to finally get Tim here.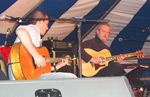 Roland Chadwick and Michael Berk are, by any standards, two extraordinarily gifted musicians who bring to the Blues something new, subtle and, cerebral though it may be, very exciting. This is without any doubt whatsoever musicianship of the very highest calibre and it unquestionably went over one or two people's heads. For the rest it was a virtuoso performance (including a foot stomping "drum" solo played on Michael's guitar) which was as enjoyable an hour of musicianship that I can remember. I was, at one point, standing next to Davy Knowles, himself a very fine guitar player as Back Door Slam fans will attest, turned to me and said "wow man, this is just blowing me away". You couldn't have summed it up any better.

The Saturday Main Stage Gig review will appear here very soon. <! - - - MAIN TEXT ENDS HERE - - - >