FESTIVAL FORUM
Debate, discussion and argument - gear, bands and gigs - it's your call
PROGRAMME 2005
What's on in 2005?
All the bands, venues and times
TICKETS
Which stage requires tickets?
Click here for all the info including eTickets
ARTISTES
Many of the Fest bands and musicians
who have appeared over the years.
Bio's, pic's and loads of info.
POSTER 2005

2004 FESTIVAL ARTISTES
The who's who of Festival 2004; pictures, links, the lot
2004 GIG REVIEWS
Photo's and Gig Reviews of ALL the stages/venues of Festival 2004
PREVIOUS FESTIVALS
Vast archive of Photo's and Gig Reviews of Previous Festivals
FESTIVAL SITE - MAP
The Festival Site map is interactive - click on any of the details for more info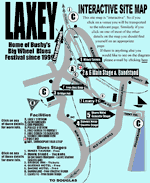 ACOUSTIC STAGE
The "Acoustic Stage" (in reality an eclectic mix of music from Delta Blues to flat out rock) at The Shore Hotel has it's own website which is now updated with new pictures and info..
ISLE OF MAN BLUES CLUB
The Manx Blues Club; where the Festival sprang from
venue, dates, history etc..
VENUES
Info & Location
NEWSLETTER: SUBSCRIBE NOW - FREE
Be in the know...first
CONTACT US
Keep us in the know and tell us about broken links, bands, gigs & any other news
MAP
Where is it? Here!
Interactive Festival Site Map
Includes Photo's of Laxey Village
TRAVEL
How to get to the Isle of Man
2003 GIG REVIEWS
Check the 2003 Festival and all the Gig reviews with a stack of pictures too
SPONSORS
Without our sonsors
there would be no
Fest - Who are these
generous people?
Lady Isabella - the Great Laxey Wheel keeps on turning...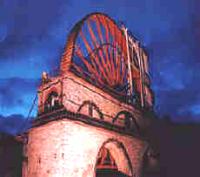 Set high on the hillside towards the hamlet of Agneash and overlooking Laxey Village is the Great Laxey Wheel and is as much associated with the Isle of Man as are the cats without tails. Built in 1854 the Laxey water wheel, known as the Lady Isabella after the wife of the Lieutenant Governor of the island at the time, was designed by the Manx engineer Robert Casement and engineered to pump up to 250 gallons of water per minute at a depth of almost 1,500 feet from the workings of the the lead and zinc mines operated by the Great Laxey Mining Company. In 1965 the Manx government bought the water wheel and the restoration work which followed, preserved it for future generations. Since 1989 it has been under the control of Manx National Heritage and is open to the public.
Click logo for Info and news about manx bands and musos

Blues in Britain Magazine
Check it out


Click to check timetables etc
and to book on-line

Click to check timetables etc
and to book on-line

Click to check timetables etc
and to book on-line
A3 Island Marquees Ltd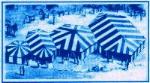 Bushy's Brewery supporting
the Fest since the last century.

Millichaps Furniture Store - Ramsey

Domicilium: Internet Providers to the Festival

PDMS: On-Line Service Providers to the Festival

Absolute Scaffolding - Blues Marquee Stage

Laxey Garage & Manx Motor Auctions

Triskel Promotions - Live Music Promotion & Support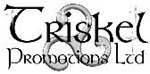 Bushy's Big Wheel Blues Festival 2005 is
a fund raising event for the British Red
Cross. Please give generously.

Quine & Cubbon Printing & Plate Making Services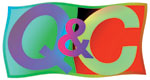 <! - - - HEADLINE GOES HERE - - - > Queen's Hotel Review 2005

<! - - - IMAGE CAN GO HERE - - - >

<! - - - MAIN TEXT GOES HERE - - - >

Music, sunshine, beer and food at the Queen's Hotel brought large and enthusiastic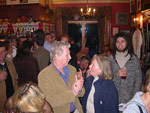 crowds throughout the festival weekend. First up inside the pub on Friday night were those tireless purveyors of blues and quirky rock Walter Ego. As usual the offer was there for any visiting musicians to get up and jam with the band or perform their own set. This year we were lucky to have the jazzy piano maestro of Steamroller, Steve Grey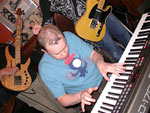 join us for a few numbers and he fitted in so well we were reluctant to let him go. No one else volunteered that night however so we got on with the job of entertaining a heaving but friendly crowd and had a great time doing it.

Saturday morning the PA was transferred over to the marquee and our young volunteer sound engineers, James, James and Sean arrived to help out. The music started with Blue Jay and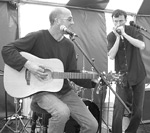 Papa Cass (featuring esteemed Festival Internet facilitator Tim Cass) who entertained the growing crowd with their acoustic blues with style. Next Anglin rushed over from running the sound desk at the main stage and the Bartoads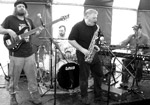 performed as we have come to expect – with great skill and polish and a diverse choice of superb material.

Four o'clock and time for Mannerisms. This four piece rocked the tent down with Status Quo numbers and lots more solid rocky blues tunes. James Tinkler then took to the stage for nearly two hours – first with his acoustic guitar and then with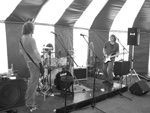 Outward Signs – giving us all a real treat. Full commitment and excellent musicianship along with Jimmy's unique delivery made this a very entertaining session.

Seven o'clock and The Darlings start their very first gig. Guitar, bass, drums, two saxes and Sarah 'darling' on vocals playing a fine range of bluesy soul tunes with great presence. They were followed by the Three Fat Greeks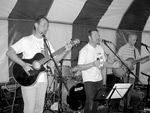 with their excellent harmonies and a bunch of great songs for the crowd to join in with.

Nine o'clock and some familiar faces to the stage for Sweet Sweet Bulbs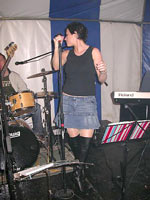 first festival performance. The legacy of superb musicianship and fantastic choice of material continues from the days of the Land Crabs and Liebezeit but now with the addition of keyboards and great lead vocals from Nicola Sherrard they seem to be more adventurous than ever (and for me that echo guitar on The Dealer really hits the spot).

Ten o'clock and our old friends from Cumbria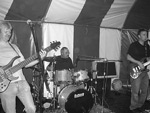 The Cahonies take to the Queens stage for the fourth time. Their playing as always was top notch with great rhythm and lead guitar from Adrian, very natural walking bass lines from Kev and tight punchy drumming from Phil but for me what always puts them ahead of other great rhythm and blues bands is their tight harmonies which this year sounded sweeter than ever.

That just left Walter Ego to round off the night with a heavier set than the one played earlier on the Bandstand stage. A great time was had by all and as the marquee closed its doors (flaps?) a happy crowd dispersed into the starlit night…….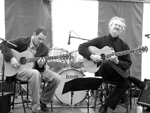 It's Sunday. 2pm. The PA has been reassembled and it is revealed that there never was an act called 'Big John Barker' as was in the programme. This was a clever ruse to allow the wonderful String Theory to play an unannounced set at the Queen's marquee. Michael and Roland started of playing to a small but appreciative crowd but soon, as the sounds of their jazzy, flamenco-y, bluesy (hard to pin down) acoustic guitar instrumentals began to float across the car park, more and more people joined us from the pub.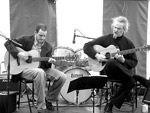 It was a privilege to have such an intimate concert from one of the festival's headline acts and they enjoyed it too. In fact Roland commented that the sound in the marquee was the best they had had all weekend and he wanted to just keep on playing and listening to Michael. So again well done to James and James on the sound desk.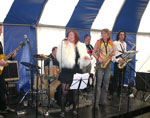 There couldn't really have been much more of a contrast with the return of The Darlings for their second set of the weekend but that's what it's all about. The Scope followed and then a great set of rock and blues tunes from Moonshine. It was the first time I had seen them with Ross drumming and I thought it was a great set.

Timings were a bit awry by this time so we encouraged Moonshine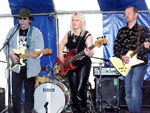 to play on a little longer and scrubbed the 'Blues Club Jam' from the running order. Instead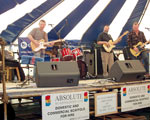 Walter Ego played a short set of all the songs they hadn't already played that weekend before handing over to The Barry Nelson Band, aided and abetted by Steve Courtie. By this time I though I had better return up the hill and see if my house and family were still there and so I bade a happy farewell to the 2005 Big Wheel Blues Festival and started to look forward to next year.

Thanks again to Jimmy, Jackie and all their bar staff and security personnel who remained cheerful and supportive throughout the weekend. Also to Jim Houghton for booking all the bands for the Queen's and Martin Brunschweiller for his unrelenting support. See you next year. <! - - - MAIN TEXT ENDS HERE - - - >