Home
| | | |
| --- | --- | --- |
| ==== | The 2007 Festival is Underway . . . . | ==== |

The 2007 Festival proceedings started in fine style with an enthralling presentation 'Railroads in the early Blues' by Max Haymes followed by a warm up jam.

Online Ticket Sales are now closed. Tickets for the Main Stage and the Douglas bus are available from Peter Norris Music at £17.50 & £2.50 respectively. Tickets will also be available on the door at £20.00 for the gig and £5 for the bus.
Doors open at 7.15 on Friday and Saturday nights at the Pavilion and the first acts will start at 7.45. The room will be set out with twelve rows of seats at the front and plenty of room for standing and dancing behind that. If you need a seat our advice would be to get there early! The bus to Douglas will leave from the Total filling station on New road at 00:15 after the Friday and Saturday gigs.
Don't forget the free main stage on Saturday afternoon with local Blues musicians – we do hope that you will all come and bring your family. Monica George will provide properly supervised children's entertainment in a marquee on the bowling green just below the Pavilion.
This website has been updated and now contains all the latest information so take a look around. Also follow the link from our line-up page to a new page giving details of all the fringe events organised by Earl and Val.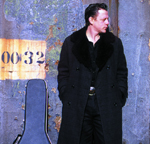 If you haven't heard it already then check out the latest Paul Jones show on the BBC Radio2 Listen Again slot and you can hear a plug for the Festival and The Ian Siegal Band playing Sugar Rush from the Meat & Potatoes album.
Thanks again to Bushy's and Cains for their sponsorship and to all of the local businesses who have advertised in our programme, which we hope will be on sale before the Festival – look out in Peter Norris Music, Ramsey Music Supplies and Fish 'o' Man in Laxey.
Finally our best wishes go to Derrin Nauendorf, and his family, who had to cancel many gigs and fly back to Australia after his father died suddenly in March. We are delighted that Derrin is will be back in time for his gig on the main stage on Friday night.
See you all at the Festival,
John, Jonno, Pete, Dave, Tim, Seth and Dave.