FESTIVAL FORUM
Debate, discussion and argument - gear, bands and gigs - it's your call
2004 FESTIVAL ARTISTES
The who's who of Festival 2004; pictures, links, the lot
2004 GIG REVIEWS
Photo's and Gig Reviews of ALL the stages/venues of Festival 2004
POSTER 2004
The 2004 Poster is available free to download right now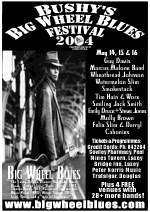 PROGRAMME 2004
What was on in 2004
All the bands, venues and times
ACOUSTIC STAGE
The "Acoustic Stage" (in reality an eclectic mix of music from Delta Blues to flat out rock) at The Shore Hotel has it's own website which is now updated with new pictures and info..
ISLE OF MAN BLUES CLUB
The Manx Blues Club; where the Festival sprang from
venue, dates, history etc..
TICKETS
Which stage requires tickets?
Click here for all the info
ARTISTS
Bio's, pic's and loads of info.
VENUES
Info & Location
NEWSLETTER: SUBSCRIBE NOW - FREE
Be in the know...first
CONTACT US
Keep us in the know
MAP
Where is it? Here!
Includes Photo's of Laxey
TRAVEL
How to get to the Isle of Man
Stage: MAIN STAGE GIG REPORT 2003
Photo's and Report on the
Charterhouse International Blues Pavilion
Main Stage
Stage: ACOUSTIC STAGE
The Acoustic Stage has it's own web
site. You can check out: Previous
fest.s, pictures and details.
NEWSLETTER: SUBSCRIBE NOW - FREE
Be in the know...first
CONTACT US
Keep us in the know
MAP
Where is it? Here!
Includes Photo's of Laxey
TRAVEL
How to get to the Isle of Man
SPONSORS
Without our sonsors
there would be no
Fest - Who are these
generous people?
Domicilium: Internet Providers to the Festival

Bushy's Big Wheel Blues Festival 2003 is a fund raising event for the British Red Cross. Please give generously.

<! - - IMAGES HERE - ->

Emily Druce and Steve Jones on the Acoustic Stage 2004 - click to enlarge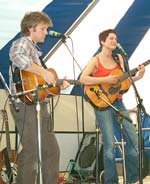 Emily at the Bridge Inn 2004 - click to enlarge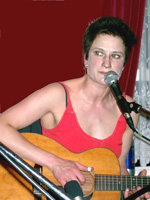 Emily and Steve at the Bridge Inn 2004 - click to enlarge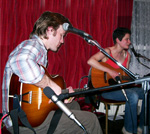 Cover of CD: 'Songs from the Silver Band Room' by Emily and Steve 2004 - click to enlarge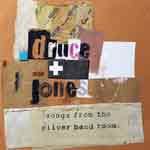 Emily and Steve 2004 - click to enlarge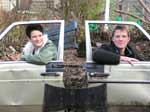 <! - - IMAGES END - ->
<! - - - EDITORIAL HERE - - - !>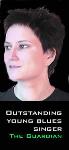 What the critics say:

"If they come to a venue near you, go and support them. You will be well rewarded" Blues in Britain

"These two very fine guitarists complemented one another's styles perfectly" Bushy's Big Wheel Blues Festival, Isle of Man

"A major new talent" Time Out

"If there is currently a better British female acoustic blues player then bring her on" Net Rhythms

"Outstanding young blues singer" The Guardian "New Day makes a good case for Emily Druce to be crowned as new queen of British female acoustic blues" Blues in Britain

"Acoustic blues… played to a fantastically high standard" Mike Harding Radio 2

"One of the most interesting white blues albums in years" Froots review of The Guilt Trip "… this is quite simply a stunning collection of blues originals and sparkling covers … Excellent, excellent work" 1340 magazine review of New Day "One of the most sparkling debut albums I have heard in a long time. A skilled guitarist, with a great voice and a talented songwriter to boot" Blues on stage

So the critics and fans love Emily and her music - so do we at the Big Wheel Blues Festival... a very great deal.

In February 2004, Emily Druce and Steve Jones released their first joint album, "Songs from the Silver Band Room".

The duo met at Burnley Blues Festival in the Spring of 2000, when Emily commissioned Steve to build her a resophonic guitar. They discovered that they shared musical influences and ideas uncommon amongst their contemporaries and by early 2003 had begun writing and performing together. Some of the highlights of the year were main stage appearances at Sidmouth International Festival, Colne's Great British R&B Festival and at our own Bushy's Big Wheel Blues Festival here on the Isle of Man.

This is what we said about their performance in 2003:
"Emily Druce and Steve Jones' roots style blues playing is a seriously classy bit of finger picking quality, with wonderful slide to go… every note, every overtone and, of course Emily's voice, was a treat to be savoured". And it's true - every word

In August 2003, they began some rough recordings of new material in a Yorkshire bandroom and decided to record the album themselves.

'Songs from the Silver Band Room' reflects the rich mix of hot blues and country flavours they have been touring around the UK. The duo creates a fresh acoustic sound, whether on arrangements of covers from the 30s and 40s or on their own strong original material. Covers on the album include songs by Champion Jack Dupree, Memphis Minnie and Lightnin' Hopkins.

The recordings were made in the Honley Silver band room and members of the band feature on the album. Other musicians playing on the album are Chris Smyth from Wiltshire on dobro and lap steel, Charlie Giordano from New York on piano and Yorkshire musicians Adam Cox, Dave Bowie and Sledgehammer Stan.

Emily
Emily Druce grew up in a musical household and began playing the violin at an early age. In her early teens she became interested in the blues after hearing some recordings of Big Bill Broonzy belonging to her mother.From this time onwards her main musical interest was in playing the guitar, singing and song-writing. She has been performing as a solo act on the UK circuit since 1996.

Emily's two solo albums (The Guilt Trip in 2000 and New Day in 2002) both received widespread praise in the press, and airplay on Radio 2's Bob Harris, Mike Harding and Paul Jones shows. The albums have gained her a reputation as the UK's top acoustic blues woman and "a singer/songwriter to keep an ear out for" (Froots). Emily has performed regularly on the live circuit since the release of her debut album in 2000, playing established London venues (Dingwalls, The Borderline and The 12 Bar Club) and a wide variety of clubs, arts centres and festivals nationwide. She has opened for Odetta, Lonnie Donegan, Dr Feelgood and Lindisfarne.

Steve
Steve Jones has been making and playing guitars since his teens. After studying clarinet he switched to guitar as his interest in country blues grew. 'I'm born to baby boomers so Dylan, Alexis Corner and Muddy Waters rocked our early years.' Performing every now and then as a duo with twin brother Chris and also with 'The Pants', a Leeds-based roots band, he has also worked on music for television, including a highly praised documentary for channel 4 called 'Love me Tender'.

The grandson of an organ builder, Steve is a career luthier who has made commissions for guitar players from around the world. He currently works with Colin Kendall and co-runs Jones Kendall Guitars. They make a range of instruments in their cosy workshop in Bury, Lancashire, specialising in reproductions of small bodied, pre-war American guitars. www.jones-guitars.co.uk

Tracks from the CDs, tour dates and more photos can be found at www.emilydruce.co.uk .