ACOUSTIC STAGE
The Acoustic Stage has it's own web
site. You can check out: Previous
fest.s, pictures and details.
THE BAND STAND
A Free Stage - in the Blues Pavilion, Laxey Station
THE BRIDGE INN
A Tickets-Only Stage
THE MINES TAVERN
A Free Stage
THE QUEENS HOTEL
A Free Electric Stage
MAIN STAGE SOUND DESK
Anglin and Andy consult the read-out on the Infusillating Graphic Combobulator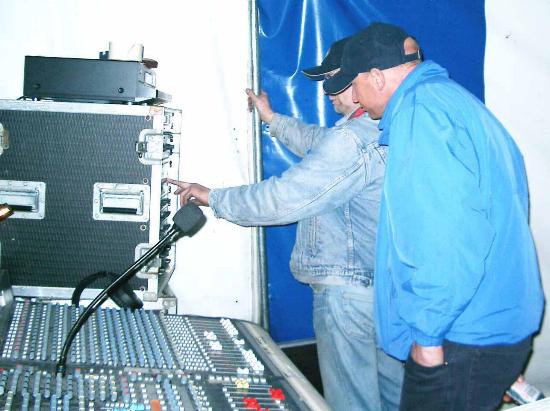 MAIN STAGE FRIDAY
The Hangover Blues Band enjoy a sellout crowd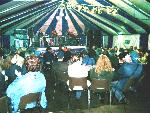 MAIN STAGE SATURDAY
Some of the crowd enjoy The Hangover Blues Band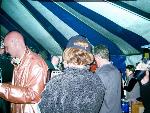 MAIN STAGE
One of the fans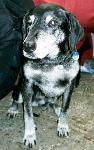 MAIN STAGE
The bar was busy in the Charterhouse Pavilion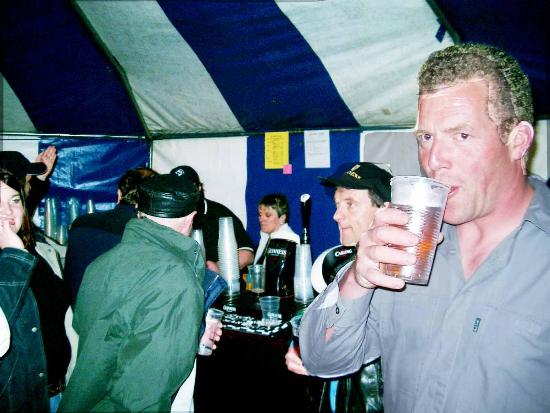 MAIN STAGE
President Wade braves the weather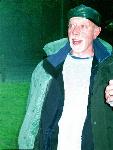 MAIN STAGE
The Peter Norris Music Stand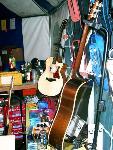 MAIN STAGE
Steve Ajao checks his messages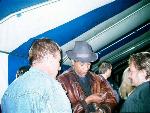 MAIN STAGE
Another one of the fans in Festival merchandise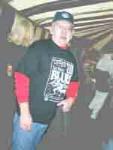 LAXEY STATION
Laxey Station Cafe and Ticket Office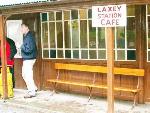 LAXEY STATION - TRAM
Laxey Station - Tram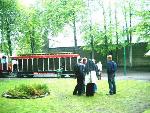 LAXEY STATION - TRAM
Laxey Station - Douglas Tram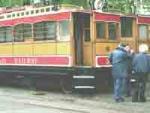 WHAT A GREAT START: FRIDAY MAY 16 2003
Charterhouse International Blues Pavilion Main Stage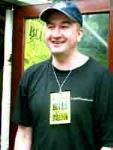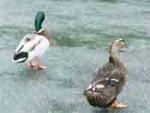 Fest Friday started out grey, wet and windy. Then it deteriorated. Later it got worse. In Laxey the rain was coming down like stair rods. cats and dogs weren't in the ball park. But the ducks were - click picture right.

This put us behind a little with gear installation and sound checks but somehow or another we managed to get the show on the road at more or less the stated time - this is the blues, you have to suffer a little. We understand this, it's cool.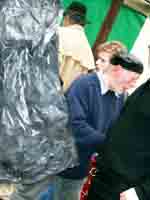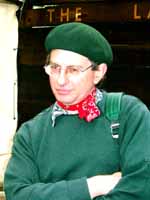 Wet weather gear was de rigeur and those of us without it well, we just put up with it. Some even managed to look pretty cool and unconcerned, such as Guy Tortora - pictured right - and Lenny, our unflappable Stage Manager (stepping in at the 11th hour and the 59th minute too - pictured above left), kept smiling and unflappably getting on with the job... and no rain gear either.

So, we pushed on regardless and it was great to find that Friday night at Charterhouse International Blues Pavilion Main Stage was sold out by late afternoon (Saturday night sold out some time ago) and we were treated to an evening of what we like...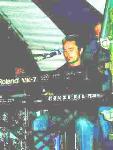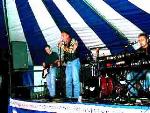 The Hangover Blues Band (pictured right) patiently waited for their sound check and then later gave us an hour of solid, quality boogie. Sam Powell - Lead Vocals and Harmonica - Dave Bragg - Bass Guitar, Vocals - Kelvin Leitch - Drums, Vocals - Paul Swanson - Lead Guitar - and Mark Steed (pictured left) - Piano, Organ, Vocals.
After all the rain it was like the sun coming out.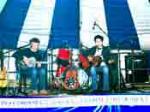 Emily Druce and Steve Jones (pictured left) whose roots style blues playing is a seriously classy bit of fingerpicking quality, with wonderful slide to go, had their on-stage sound problems but out front it was the complete business. Every note, every overtone and, of course Emily's voice, was a treat to be savoured and not only by the cognoscenti but by the rest of us too. With their original songs and passion for the music these two young, beautiful people are keeping the flame burning... bright and hot.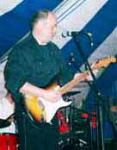 You could not have a greater contrast between the styles of Emily Druce and Steve Jones and that of The Smokin' Blues Band who followed them. Smokin' Ade Wakelin cranked up a Fender Twin and let rip on his 1955 Fender Strat (pictured right) together with his oh so solid rhythm section. John Hiatt's Rain was somewhere in the middle of the set but this was just the eye of the storm. By the time they lashed into Crossroads at just gone midnight there was hardly a misty eyed guy in the place who wasn't reaching for his air guitar...


On a very sad note we extend our sincere and deepest sympathy to Pete Mastrantone (bass player with the Smokin' Blues Band - pictured above left) who heard the terrible news that his father had died just hours before he was due on stage with The Smokin' Blues Band on Friday night. His family insisted that he stayed on to do the gig and it is easy to understand how hard this must have been for him, but to his great credit not one of us knew of his sad loss until later in the weekend.
SATURDAY MAY 17 2003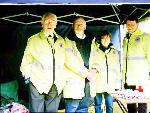 The rain continues through the day and the poor old Red Cross Team were out in it all day. But unlike most of us they were at least prepared with wet wetaher gear and a very nice canopy that kept them dry. They were a cheerful bunch and as the music reached them from the Charterhouse Blues Pavilion they reminisced about the 60's and the effect that Jimi Hendrix had on popular music when he hit British Shores in a blaze of guitars and Marshalls. Ah, they were indeed the days...

AFTERNOON:
For gig report and pictures of the Black's Fireplace Bandstand held in the Charterhouse International Blues Pavilion click here or on the link to the left.

For all the weekend gig reports and pictures click the links to the left and elsewhere.


EVENING:



The afternoon session closed at 6.00pm and the marquee was readied for the evening performances. Steve Ajao's bass player arrived on the afternoon flight to everyone's relief and after the unbelievable acoustic set that Steve and Ade Smokin' Wakelin gave on the Acoustic Stage at The Shore earlier in the afternoon expectations were high. Sound-checks were completed on time, and The Kelly Elliott Band stepped up to a warm reception from the sold-out Blues Pavilion crowd - Picture above.

What followed was the first of three hours of quality live music. Kelly's band are a fine bunch of musicians who not only know how to play, and boy do they know how to play, but they know how to perform too.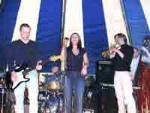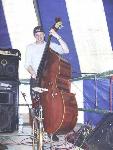 Double Bass player John Boy Parker, in bare feet, gave a fine display of percussion as he rapped away at the bass body with his hands as well as great bowing technique to boot. Guitar player Paul Swanson proved that he is not only a fine lead player but, the real test, a marvellous rhythm player too. Keyboards are taken care of by Mark Steads who boogies with the best of them. Liz Ralls blows a er.. mean horn and Kelvin Leitch on drums kept it all rock steady. The crowd were reluctant to let them go but with two great bands to come there was no time for encores despite the fact that it was undoubtedly deserved.

Smokestack . What a band these three are. Drums, bass, guitar. I know what you might have been thinking: not another too loud guitar band? You could not be further from the truth.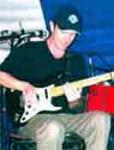 These three are the real deal, the absolute business, the cat's pyjamas, the dogs... I knew they were good but, well, you just had to be there. Phil Mills, Guitarist, singer and harp player had severe stomach trouble all afternoon and there was real doubt that he would make it on stage. But from the first note we knew that we were in for something really special. Roger Ferris and Ali Van Ryne on Bass and Percussion respectively are a rhythm section to die for and Phil hit his stride from the off. He starts sitting on a chair but can barely contain himself,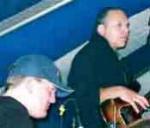 left leg banging out the tempo with a passion I don't think I have ever seen this side of Big Bill Broonzy and then he's up prowling around the stage like a man possessed. His guitar and harp are wonderful and his voice has power, subtlety and a break that any singer would give their right arm for. The Blues Pavilion crowd were in raptures and the cries for "more" at the end of a wonderful set were heartfelt and genuine. It was just a shame that we didn't have the time to hear more of Smokestack.

Steve Ajao and his band had the unenviable task of following them but standing at, perhaps, 2 metres in height, accompanied by his beautiful '55 Fender Strat,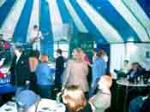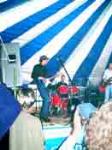 a voice that rumbled like thunder in the night and a rhythm section as tight as a sergeant major's er...drill squad, he was more than up to the job. Three encores say it all and there would have been more but, well, the time had come to say goodnight and grab a coach or a taxi home. He stayed behind afterwards to "personally thank" everyone - again, you had to be there!

If you missed Saturday night in the Charterhouse Blues Pavilion - and it was a sell-out - you really, really missed something...

Many more pictures and details will be added in the coming days.


---


OTHER VENUE GIG REPORTS AND PHOTO'S

Follow links to the upper left or the links below.

THE BANDSTAND - SPONSORED BY BLACK's FIREPLACES

For gig reports on Saturday Afternoon at the Black's Fireplaces Bandstand in the Charterhouse International Blues Pavilion in Laxey Station, click the link to the left - BANDSTAND - or here .


THE BRIDGE INN - SPONSORED BY MILLICHAPS

For gig reports on both Friday & Saturday nights at the Bridge Inn, click on the link to the left - BRIDGE INN - or here .


THE MINES TAVERN

For gig reports on both Saturday and Sunday afternoons at the Mines Tavern, click on the link to the left - MINES TAVERN - or here .


THE QUEENS HOTEL BLUES MARQUEE

For gig reports on both Saturday and Sunday afternoons at the Queens Hotel, click on the link to the left - QUEENS HOTEL - or here .


SHORE HOTEL - ACOUSTIC STAGE

For gig reports on both Friday & Saturday nights at the Acoustic Stage, The Shore Hotel click on the link to the left - ACOUSTIC STAGE - or here