FESTIVAL FORUM
Debate, discussion and argument - gear, bands and gigs - it's your call
PROGRAMME
What's on? Click to find out
All the bands, venues and times
ARTISTES
Many of the Fest bands and musicians who have appeared over the years Bio's, pic's and loads of info.
PREVIOUS FESTIVALS
Vast archive of Photo's and Gig Reviews of Previous Festivals
SPONSORS
Without our sonsors
there would be no
Fest - Who are these
generous people?
ISLE OF MAN BLUES CLUB
The Manx Blues Club; where the Festival sprang from
venue, dates, history etc..
TICKETS
The Festival is mostly FREE
but which stages require tickets?
Click here for all the info
NEWSLETTER: SUBSCRIBE NOW - FREE
Be in the know...first
CONTACT US
Keep us in the know
TRAVEL
How to get to the Isle of Man
Domicilium: Internet Providers to the Festival

Bushy's Big Wheel Blues Festival is a fund raising event for the British Red Cross. Please give generously.

<! - - IMAGES HERE - ->

Jonny Tonks - click to enlarge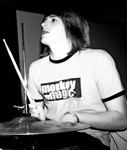 Stepan Podobsky - click to enlarge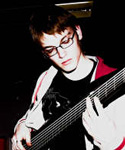 Joe Carter-Hawkins - click to enlarge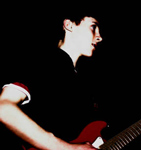 Dave Cain - click to enlarge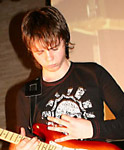 <! - - - EDITORIAL HERE - - - > Stone Creation formed in July 2005, when four students of St Ninian's, Isle of Man, represented their school at the Tynwald Day Battle of the Bands. Drawn together by the Soundcheck music scheme, their inspiration and love for music is thanks to such greats as: Jimi Hendrix, Stevie Ray Vaughan, Lynrd Skynrd and Stevie Wonder.

On vocals and lead guitar are Dave Cain and Joe Carter-Hawkins, who played together before the band began, sharing a similar passion for blues, rock and even jazz.

Dave, who is inspired by the likes of SRV and Eric Clapton, sings and plays a mixture of upbeat and slower blues tunes. Joe, on the other hand, was brought up listening to Jimi Hendrix, and loves to experiment with new ideas. Together, the blend of their powerful vocal and guitar styles makes for the unique sound which Stone Creation offer.

Stepan Podobsky, who mainly plays the bass guitar in the band (but is also a classical/rock guitarist!), has been known to throw down his bass and pick up his lead guitar, demonstrating his versatility as a musician. His influences include Steve Vai and Frank Zappa, amongst many others.

Then there is Jonny - the rhythm of the band. Drummer, Jonny Tonks , is the energetic and talented driving force of Stone Creation, whose education in music consists of Stevie Wonder, Phil Collins and other artists. Incorporating his own individual style of playing, Jonny never stops trying out new ideas.

As a band, Dave, Joe, Jonny and Stepan love to share their music, and are looking forward to entertaining the audience at the the 2006 Big Wheel Blues Festival.