FESTIVAL FORUM
Debate, discussion and argument - gear, bands and gigs - it's your call
2004 FESTIVAL ARTISTES
The who's who of Festival 2004; pictures, links, the lot
2004 GIG REVIEWS
Photo's and Gig Reviews of ALL the stages/venues of Festival 2004
POSTER 2004
The 2004 Poster is available free to download right now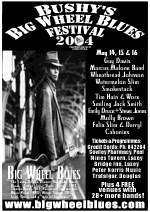 PROGRAMME 2004
What was on in 2004
All the bands, venues and times
ACOUSTIC STAGE
The "Acoustic Stage" (in reality an eclectic mix of music from Delta Blues to flat out rock) at The Shore Hotel has it's own website which is now updated with new pictures and info..
ISLE OF MAN BLUES CLUB
The Manx Blues Club; where the Festival sprang from
venue, dates, history etc..
TICKETS
Which stage requires tickets?
Click here for all the info
ARTISTS
Bio's, pic's and loads of info.
VENUES
Info & Location
NEWSLETTER: SUBSCRIBE NOW - FREE
Be in the know...first
CONTACT US
Keep us in the know
MAP
Where is it? Here!
Includes Photo's of Laxey
TRAVEL
How to get to the Isle of Man
Stage: MAIN STAGE GIG REPORT 2003
Photo's and Report on the
Charterhouse International Blues Pavilion
Main Stage
Stage: ACOUSTIC STAGE
The Acoustic Stage has it's own web
site. You can check out: Previous
fest.s, pictures and details.
NEWSLETTER: SUBSCRIBE NOW - FREE
Be in the know...first
CONTACT US
Keep us in the know
MAP
Where is it? Here!
Includes Photo's of Laxey
TRAVEL
How to get to the Isle of Man
SPONSORS
Without our sonsors
there would be no
Fest - Who are these
generous people?
Domicilium: Internet Providers to the Festival

Bushy's Big Wheel Blues Festival 2003 is a fund raising event for the British Red Cross. Please give generously.

<! - - IMAGES HERE - ->

Slim goes to work on the Main Stage 2004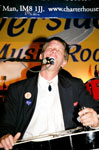 "Now how does that tune go..."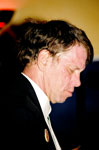 "Oh yeah, I got it..."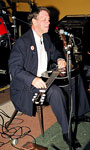 Slim and his National take the applause - Main Stage 2004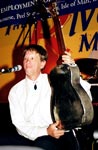 Slim being interviewed for live Manx Radio by Roy McMillan outside the Main Stage 2004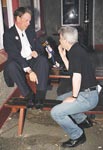 Slim blows a mean harp - Main Stage 2004 - click to enlarge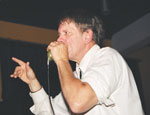 both standing and kneeling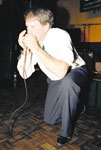 and dancing... click to enlarge all images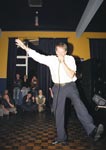 <! - - - EDITORIAL HERE - - - > "WATERMELON SLIM" HOMANS
Born in Boston, Mass., and raised in North Carolina, Bill Homans, aka Watermelon Slim, has taken the blues all over the United States, Europe and Southeast Asia. His buzzsaw-raw, intensely personal vocals, harp playing and slide guitar are the products of a life spent scuffling in hard, dirty day jobs, and nights in innumerable blues lineups in clubs from coast to coast.

Slim on the Main Stage 2004 - click to enlarge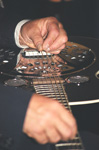 During a career spanning over 30 years, Watermelon Slim has played with the late Henry "Sunflower" Vestine of Canned Heat, Bonnie Raitt , Robert Cray , the late John Lee Hooker , and in France with New Orleans barrelhouse piano player Champion Jack Dupree among many others.

After coming home from a tour of duty in Vietnam, Watermelon Slim appeared on the scene with his first album, "Merry Airbrakes," in the early 1970s. In 1987, "Country" Joe McDonald reissued one of Watermelon Slim's songs, "Quang Tri City," as part of his series of music by Vietnam veterans.

Before returning to Oklahoma for the second time, in 1993, he was a regular on the Boston, Mass., club scene, playing for 2 1/2 years with "Washtub" Robbie Phillips and the Old Dogs , and with Chris "Stovall" Brown and Madeleine Hall . Before that, Slim livened up the Eugene, Oregon area, with Henry Vestine and Church of the Blues.



Slim's guitars await him on the Main Stage 2004 click to enlarge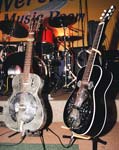 Watermelon Slim founded Fried Okra Jones in the late 1990s and has been its front man, harp player and slide guitarist ever since. In addition to his work with FOJ, Slim performed and exhibited his artwork along with Barbara Dane , Thurston Moore , Ben Lee and others as a part of "Songs of Protest: The Vietnam Songbook" at the New York Public Theatre Feb 15, 2003.

Watermelon Slim is in the blues for life, and is always eager to share this authentic American art form in his home of Stillwater, Oklahoma and all points east, west, north and south. Listen and enjoy!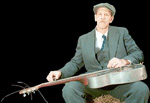 Watermelon Slim , besides being a bluesman, is an anglophile and an avid student of Elizabethan/Jacobean drama. He points out that Shakespeare's Sir John Bushy was one of the Lords attendant on King Richard the Second (Richard II, I iii 54 et suiv.) who was executed (Richard II, III i 1-35) by the usurping Bolingbroke, thereafter known as King Henry the Fourth. Shakespeare does not deal charitably with that Bushy. Nonetheless, the Bard is as bright a personal hero to Slim as John Lee Hooker or Muddy Waters! He says that he hasn't done any historical research on Sir John Bushy beyond what is said in Shakespeare or even if there is anything more to be known but that he would love to hear any more that anyone might be able to tell him and that he will pass same on to his mentor in Oregon, Professor W. G. Rockett. Use the e-mail button below to pass on any info.

The following is Slim's own Sonnet written in tribute to the late Queen Mother:

One of the last who would remember well
Both of her England's twentieth-century wars,
This queen, this mother, stood against the swell
Of German pride and Nazism's mad force.
This was a royal of an older day
When dignity and noblesse stood for ought,
And though the Law had circumscribed her sway
For King and Queen and Country Britons fought.
It must have been a pleasure to have known,
Have lived, and laughed, and kept solemn with, her.
A glorious part of history now is gone,
A steady guidepost to the best we were.
Oh England, for now, cry your decorous tears.
But know the throne shall flourish through the years.


"Watermelon Slim shuffled on to the stage and picked up his battered, old, left-handed National Steel guitar for what would turn out to be a spell binding performance..."
This quote was taken from the 2004 Main Stage Gig Review: (click the link to read the rest).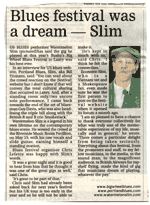 Slim's appearance at the 2004 Festival was a indeed "spell-binding" and the synchronisity that brought Guy Davis (who followed WS on to the stage) and Slim together in this place at this time was one of those very rare moments that can make live music-making truly magical for performers and audience alike. Slim was later to talk about this during an interview with Blue Duck Chuck at Portland Blues (click here to read this wide ranging interview. Picked up by the Isle of Man Examiner in September '04, they printed a story which you can read by clicking the thumbnail image of the clipping above right.

Hats off to the character, integrity and commitment of the mighty Watermelon Slim.