FESTIVAL FORUM
Debate, discussion and argument - gear, bands and gigs - it's your call
PROGRAMME
What's on? Click to find out
All the bands, venues and times
ARTISTES
Many of the Fest bands and musicians who have appeared over the years Bio's, pic's and loads of info.
PREVIOUS FESTIVALS
Vast archive of Photo's and Gig Reviews of Previous Festivals
SPONSORS
Without our sonsors
there would be no
Fest - Who are these
generous people?
ISLE OF MAN BLUES CLUB
The Manx Blues Club; where the Festival sprang from
venue, dates, history etc..
TICKETS
The Festival is mostly FREE
but which stages require tickets?
Click here for all the info
NEWSLETTER: SUBSCRIBE NOW - FREE
Be in the know...first
CONTACT US
Keep us in the know
TRAVEL
How to get to the Isle of Man
Domicilium: Internet Providers to the Festival

Bushy's Big Wheel Blues Festival is a fund raising event for the British Red Cross. Please give generously.

<! - - IMAGES HERE - ->

A.S.A.P - click to enlarge

Click to enlarge and see the rest of the band!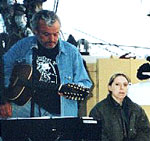 ASAP setting up at the Queens Hotel 2004 - click to enlarge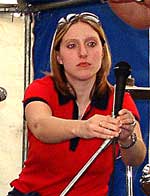 ASAP in 2006 - click to enlarge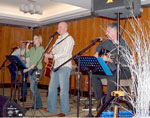 ASAP in 2006 - click to enlarge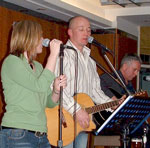 <! - - - EDITORIAL HERE - - - > A.S.A.P. were formed in 2002 as a natural progression from the weekly acoustic guitar enthusiast's sessions in the Bridge Inn Laxey.

At one time this gathering of local twangers reached upwards of fifteen members, all of whom wished to take their obsession with the guitar a stage further than the garden shed. As the numbers dwindled, we were left with a hardcore of three ( A ndy Dugdale, S teve Cowley, & P ete Bridge), so the decision was made to form a band and purchase equipment to make us louder.

With the recent welcome addition of the classically trained A nna Smith, who has lifted our vocals to heady heights, we are now complete.

Early gigs included the Christmas Laxey Variety show playing 'Knocking on Heavens Door' to the front row consisting entirely

ASAP in 2006 - click to enlarge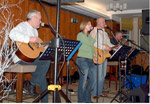 of O.A.P's. Our music is all acoustic guitar derived, and based purely on the songs we like. As there is a mix of ages spanning two decades, this makes for an eclectic mix of songs.

ASAP have appeared at the Queens Hotel Free Stage several times - click here for a review of the 2004 Isle of Man Blues Festival, Queens HotelGigs.