Sweat Bees at the Queens 2004
Sweat Bees - Click to ENLARGE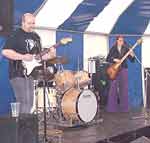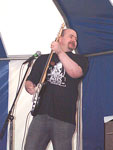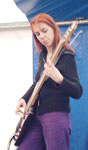 Who's setting up here at the Queens 2004?
Click to ENLARGE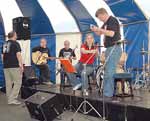 Felix Slim steps in for "me 'n 'im" - 2004 Click to ENLARGE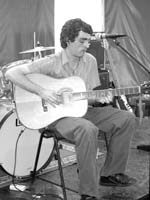 Some of the audience at The Queens - outside bar in the background - 2004 Click to ENLARGE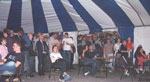 The Snack bar at The Queens - 2004 Click to ENLARGE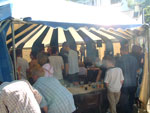 Cahonies at The Queens - 2004 Click to ENLARGE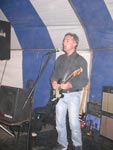 The Cahonies at The Queens - 2004 Click to ENLARGE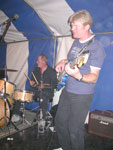 Liebezeit at The Queens - 2004 Click to ENLARGE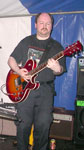 Liebezeit at The Queens - 2004 Click to ENLARGE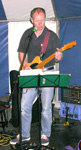 The Queens review 2004

By J.B.



J.B. stretches out on his Telecaster - click to ENLARGE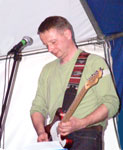 Unlike last year I did not spend the entire festival in the Queens. This year I was out and about more, jamming and enjoying other venues. So, at the outset of this year's review, before they start making comments in their website biographies (read the notes on Dubious Origin if you don't know what I mean!) I apologise to those acts I missed.


Steve "Strings" Courtie at the Queens 2004 - click to ENLARGE - if you've got the stomach for it...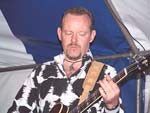 Friday night in the Queens started about 9pm with Walter Ego (Jim, Derek (see picture below) and John now almost permanently aided and abetted by Steve Courtie - picture right - for a dual lead guitar line up) with harp supremo Tim Davies guesting. We played two sets (the highlight probably being Tim's harmonica playing on Peter Green's 'Love That Burns' - smokin'!) and then spotted

Smiling Jack Smith supported by Dave McLean, Johnny G and Jim Houghton play a blinder - click to ENLARGE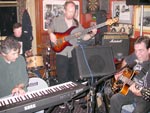 Johnny Galbraith, Dave McLean and a man who could only have been New York-born, Madrid resident, Smiling Jack Smith . These three were assisted by Walter Ego skinsman Jim Houghton on a 40 minute set of Jack's self-penned blues. It was great music in a very intimate setting. Jack, a modest, self-effacing and generous musician, sang from the heart and made us all smile and clearly appreciated

Smiling Jack Smith enjoying an unexpected bonus; a last minute gig at The Queens - click to ENLARGE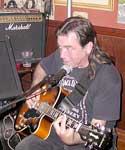 the superb talents of the local musicians. Whilst Dave and Johnny were in position Tim Davies joined them on harp and Kate Bass sang a few songs with Smiling Jack on guitar - another treat for the packed pub.

All the time, because of the warm evening, the bar was doing a roaring trade with as many people outside as in. Next up, a visit from Daryl Williams and Felix Slim leading a jamming session of rocking blues.

Jim of Walter Ego readies himself for the off - click to ENLARGE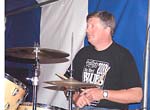 Then it was last orders and time for the music to stop, much to the disappointment of the audience and in particular Steve C who was somewhat emotional about the whole thing - he had to be consoled with more bottles of beer and the promise of music tomorrow.

Saturday morning we set up the PA in the Queens Blues Marquee. After a quick soundcheck those late seventies fanatics the Shedmen stepped up to the stage. Walter Ego dashed off to the Bandstand and played to a very small (it was early) but appreciative audience and stayed on to watch the Cahonies for a while, thereby missing Dubious Origin (again!!). I made it back to see some of Kate Clague's excellent set before dashing of for some jamming at the Mines . The next band I saw at the Queens were ASAP

Sweat Bees at The Queens - 2004 Click to ENLARGE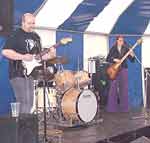 who had the audience singing along before the Sweat Bees (picture right & above left) took to the stage. This was something I had been looking forward to as Nick and Pris Bradburn were both members of Walter Ego for a couple of years before they left the island. Since then Nick has suffered from an extremely serious neurological disorder which had left him paralysed for months. Now, however, he is up and playing guitar better than ever and in great voice. Pris has learnt to play bass to a very high standard in a very short time and they were joined by soon to be brother-in-law Phil on drums (his drum solo was one popular highlight). Great to see you back at the Festival guys, make sure you come again soon. Walter

Liebezeit at The Queens - 2004 Click to ENLARGE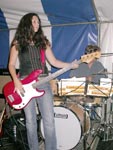 Ego followed, the guitar larking about between John and Steve being encouraged to new heights of silliness by an enthusiastic crowd who's calls for a 'basssoloo' from Derek were met with a mob-pleasing version of Seven Nation Army by White Stripes. The blues soon returned to finish the set and lead into my favourite local band Liebezeit . Where else would you find two bands in a row playing John Martyn songs (we also both have Eels

Liebezeit impress JB at the Queens 2004 - click to ENLARGE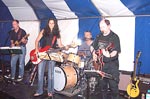 and Richard Thompson in our set lists - now that's what I call music!). Their version of Molly's Chambers by Kings of Leon was a highlight that night.

And then the Cahonies. Well what can I say other than superb. They didn't let the pace drop once in their hour long set of effortlessly but skilfully executed blues. Great playing and singing, the harmonies really sounding sweet and polished. The audience loved it and the dance floor was full for the duration of their set. These three guys from Cumbria are building up a loyal fan club here on the island and are always welcome back.

Evan of Roadhouse at The Queens - 2004 - click to ENLARGE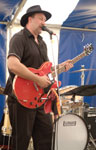 Sunday afternoon started with Three Fat Greeks - three thin local lads with great harmonies and songs to please the growing crowd. Mr Riff followed with his usual skill and larger than life performance and then, finally, I got to hear Dubious Origin. Excellent set, even with one singer less than usual and well received by the audience (ok John?). Walter Ego followed with

Roadhouse at The Queens - 2004 - click to ENLARGE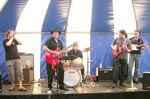 another set, this time a more laid-back affair and the first time over the weekend that I had managed

Alan on Bass with Roadhouse at The Queens - 2004 - click to ENLARGE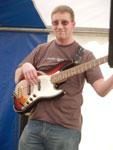 to slip in a Neil Young song (well On the Beach is almost a blues progression!). At the last minute Tim and Kate joined us for Stormy Monday Blues. More solid rhythm and blues followed from Evan and the boys of Roadhouse , always a pleasure to hear, and then we discovered that half of Me'n'im was ill.

Felix Slim & Darryl Williams with Walter Ego at The Queens - 2004 - click to ENLARGE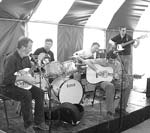 We grabbed Big Darryl and Felix Slim who were relaxing at The Queens and they were wonderfully entertaining for a 30 minute set on their acoustic guitars, harmonica and resonator mandolin. Tim, Jim, Alan from Roadhouse on bass and myself joined in for a few tunes and had a great time. By then I was all played out and beat a retreat up the hill and left the crowd to enjoy ASAP, Creamy Heads and Anti-blues - the stand up comedian.

Another great Blues Festival weekend made all the better by the fabulous weather. As always big thanks to Jimmy and Jackie , all the bar staff and to our very own Jim Houghton for booking all the bands... see you next year.