FESTIVAL FORUM
Debate, discussion and argument - gear, bands and gigs - it's your call
ARTISTES
Many of the Fest bands and musicians who have appeared over the years Bio's, pic's and loads of info.
PROGRAMME
What's on? Click to find out
All the bands, venues and times
2004 FESTIVAL ARTISTES
The who's who of Festival 2004; pictures, links, the lot
2004 GIG REVIEWS
Photo's and Gig Reviews of ALL the stages/venues of Festival 2004
PREVIOUS FESTIVALS
Vast archive of Photo's and Gig Reviews of Previous Festivals
POSTER
The current Poster is available free to download right now

PROGRAMME 2004
What was on in 2004
All the bands, venues and times
ACOUSTIC STAGE
The "Acoustic Stage" (in reality an eclectic mix of music from Delta Blues to flat out rock) at The Shore Hotel has it's own website which is now updated with new pictures and info..
SPONSORS
Without our sonsors
there would be no
Fest - Who are these
generous people?
ISLE OF MAN BLUES CLUB
The Manx Blues Club; where the Festival sprang from
venue, dates, history etc..
TICKETS
The Festival is mostly FREE
but which stages require tickets?
Click here for all the info
ARTISTES
Bio's, pic's and loads of info on most of the artistes that have ever appeared.
VENUES
Info & Location
NEWSLETTER: SUBSCRIBE NOW - FREE
Be in the know...first
CONTACT US
Keep us in the know
MAP
Where is it? Here!
Includes Photo's of Laxey
TRAVEL
How to get to the Isle of Man
Stage: MAIN STAGE GIG REPORT 2003
Photo's and Report on the
Charterhouse International Blues Pavilion
Main Stage
Stage: ACOUSTIC STAGE
The Acoustic Stage has it's own web
site. You can check out: Previous
fest.s, pictures and details.
Domicilium: Internet Providers to the Festival

Bushy's Big Wheel Blues Festival 2003 is a fund raising event for the British Red Cross. Please give generously.

<! - - IMAGES HERE - ->

Laxey Football Club celebrate the "double"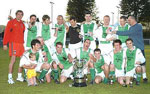 The Marquee goes up in May 2005 - Click to enlarge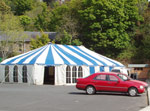 <! - - - EDITORIAL HERE - - - > Laxey Football Club is a new venue for 2005.

To be hosted by well known local band The Shedmen the Laxey FC "Indie" stage will be in a marquee on the club ground in Glen Road (see the Festival Site Map by clicking here and will feature a wide variety of live indie music from the cream of the island's burgeoning band scene.

The 2005 Festival Gig report and photos will appear here shortly after the May 13, 14 and 15 gigs.


Laxey FC Unofficial website: Laxey Football Club


To see the latest Programme at the Laxey FC Indie Marquee & the rest of the Fest click: here