FESTIVAL FORUM
Debate, discussion and argument - gear, bands and gigs - it's your call
2004 FESTIVAL ARTISTES
The who's who of Festival 2004; pictures, links, the lot
ARTISTES
Many of the Fest bands and musicians who have appeared over the years Bio's, pic's and loads of info.
2004 GIG REVIEWS
Photo's and Gig Reviews of ALL the stages/venues of Festival 2004
PREVIOUS FESTIVALS
Vast archive of Photo's and Gig Reviews of Previous Festivals
POSTER 2004
The 2004 Poster is available free to download right now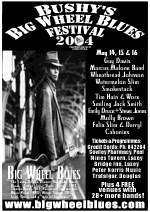 PROGRAMME 2004
What was on in 2004
All the bands, venues and times
ACOUSTIC STAGE
The "Acoustic Stage" (in reality an eclectic mix of music from Delta Blues to flat out rock) at The Shore Hotel has it's own website which is now updated with new pictures and info..
SPONSORS
Without our sonsors
there would be no
Fest - Who are these
generous people?
ISLE OF MAN BLUES CLUB
The Manx Blues Club; where the Festival sprang from
venue, dates, history etc..
TICKETS
The Festival is mostly FREE
but which stages require tickets?
Click here for all the info
ARTISTES
Bio's, pic's and loads of info on most of the artistes that have ever appeared.
VENUES
Info & Location
NEWSLETTER: SUBSCRIBE NOW - FREE
Be in the know...first
CONTACT US
Keep us in the know
MAP
Where is it? Here!
Includes Photo's of Laxey
TRAVEL
How to get to the Isle of Man
Stage: MAIN STAGE GIG REPORT 2003
Photo's and Report on the
Charterhouse International Blues Pavilion
Main Stage
Stage: ACOUSTIC STAGE
The Acoustic Stage has it's own web
site. You can check out: Previous
fest.s, pictures and details.
Domicilium: Internet Providers to the Festival

Bushy's Big Wheel Blues Festival 2003 is a fund raising event for the British Red Cross. Please give generously.

<! - - IMAGES HERE - ->
















<! - - - EDITORIAL HERE - - - >
"Serious guitar and heavy driving vocals...deep and fiery, then cool and blue. It's like being on a roller coaster in a hurricane..." SpeakEasy

"A voice and a half...definitely someone to watch out for..." Folk Roots

"A powerful and soulful vocalist with an aura of ease and professionalism on stage..." Steppin' Out

"If Nicky Mitchell's voice doesn't make your toes curl, your soul is on vacation and your mind is in neutral..." Bottleneck Blues Club
Nicky Mitchell is a singer, guitarist and songwriter, based in Brighton in the South of England.

Born in London, she grew up in Warrington before moving south to Brighton in the eighties. Cutting her teeth in restaurants and bars in the town, she has steadily built up a supportive fanbase and an excellent reputation as an honest and forthright, no holds barred emotive performer. Her work as a jazz musician both as a solo performer and with her trio has kept her busy in Brighton and the southern counties. Her jazz, swing, bebop and blues sets are characterised by her own unique interpretations, and have allowed her to make music her career.

Citing influences as diverse as Robert Johnson and Joni Mitchell, Nicky's experience as a professional performer since 1991 is equally as eclectic. She has played support cabaret for top artists such as Jo Brand, Donna McPhail and The Well Oiled Sisters. In the field of blues she has worked alongside top contemporary names such as Taka Boom, Dana Gillespie, Eugene Bridges and Clarence Walker.

'Promise & Fire' is her long awaited debut original release. Written from the soul, this is a remarkable body of work delivered with passion and commitment, from a highly respected and widely appreciated contemporary singer-songwriter. The recording captures the essence of her live sound and atmosphere - fragments of experience viewed from coloured windows that draw you through them into vibrant emotional landscapes and out to the edges of everything.