FESTIVAL FORUM
Debate, discussion and argument - gear, bands and gigs - it's your call
2004 FESTIVAL ARTISTES
The who's who of Festival 2004; pictures, links, the lot
ARTISTES
Many of the Fest bands and musicians who have appeared over the years Bio's, pic's and loads of info.
2004 GIG REVIEWS
Photo's and Gig Reviews of ALL the stages/venues of Festival 2004
PREVIOUS FESTIVALS
Vast archive of Photo's and Gig Reviews of Previous Festivals
POSTER 2004
The 2004 Poster is available free to download right now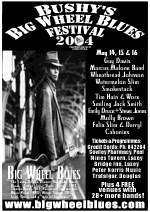 PROGRAMME 2004
What was on in 2004
All the bands, venues and times
ACOUSTIC STAGE
The "Acoustic Stage" (in reality an eclectic mix of music from Delta Blues to flat out rock) at The Shore Hotel has it's own website which is now updated with new pictures and info..
SPONSORS
Without our sonsors
there would be no
Fest - Who are these
generous people?
ISLE OF MAN BLUES CLUB
The Manx Blues Club; where the Festival sprang from
venue, dates, history etc..
TICKETS
The Festival is mostly FREE
but which stages require tickets?
Click here for all the info
ARTISTES
Bio's, pic's and loads of info on most of the artistes that have ever appeared.
VENUES
Info & Location
NEWSLETTER: SUBSCRIBE NOW - FREE
Be in the know...first
CONTACT US
Keep us in the know
MAP
Where is it? Here!
Includes Photo's of Laxey
TRAVEL
How to get to the Isle of Man
Stage: MAIN STAGE GIG REPORT 2003
Photo's and Report on the
Charterhouse International Blues Pavilion
Main Stage
Stage: ACOUSTIC STAGE
The Acoustic Stage has it's own web
site. You can check out: Previous
fest.s, pictures and details.
Domicilium: Internet Providers to the Festival

Bushy's Big Wheel Blues Festival 2003 is a fund raising event for the British Red Cross. Please give generously.

<! - - IMAGES HERE - ->

Ade Wakelin - click to enlarge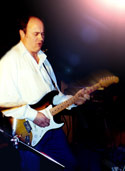 Ade Wakelin

<! - - - EDITORIAL HERE - - - > The Smokin' Blues Band are a powerful three piece blues band consisting of Ade on guitar and vocal, Pete on bass and backing vocal and Nigel on drums.

The band pull on a tremendous amount of combined experience of live performances and studio work and draw influences from Clapton, Hendrix, Freddie and Albert King, Muddy Waters and, of course, many other great blues artists.



However, both Adrian and Peter have worked together for well over twenty years and have developed a strong tradition of writing their own original material which blends seamlessly into a set of classic covers and great arrangements.

The band's current CD is called: "Would you Adam & Eve it?" ...and was recorded live at the Adam & Eve pub in Birmingham.

They love to play and say that they'll do so anywhere; Pubs, Clubs, Blues Festivals, Rib-Shacks, Brothels and all kinds of other low down dives, but they wont do your wedding because your granny wouldn't like it. Sounds fair enough to me that's just the way I like it.