FESTIVAL FORUM
Debate, discussion and argument - gear, bands and gigs - it's your call
2004 FESTIVAL ARTISTES
The who's who of Festival 2004; pictures, links, the lot
ARTISTES
Many of the Fest bands and musicians who have appeared over the years Bio's, pic's and loads of info.
2004 GIG REVIEWS
Photo's and Gig Reviews of ALL the stages/venues of Festival 2004
PREVIOUS FESTIVALS
Vast archive of Photo's and Gig Reviews of Previous Festivals
POSTER 2004
The 2004 Poster is available free to download right now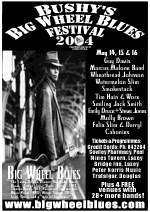 PROGRAMME 2004
What was on in 2004
All the bands, venues and times
ACOUSTIC STAGE
The "Acoustic Stage" (in reality an eclectic mix of music from Delta Blues to flat out rock) at The Shore Hotel has it's own website which is now updated with new pictures and info..
SPONSORS
Without our sonsors
there would be no
Fest - Who are these
generous people?
ISLE OF MAN BLUES CLUB
The Manx Blues Club; where the Festival sprang from
venue, dates, history etc..
TICKETS
The Festival is mostly FREE
but which stages require tickets?
Click here for all the info
ARTISTES
Bio's, pic's and loads of info on most of the artistes that have ever appeared.
VENUES
Info & Location
NEWSLETTER: SUBSCRIBE NOW - FREE
Be in the know...first
CONTACT US
Keep us in the know
MAP
Where is it? Here!
Includes Photo's of Laxey
TRAVEL
How to get to the Isle of Man
Stage: MAIN STAGE GIG REPORT 2003
Photo's and Report on the
Charterhouse International Blues Pavilion
Main Stage
Stage: ACOUSTIC STAGE
The Acoustic Stage has it's own web
site. You can check out: Previous
fest.s, pictures and details.
Domicilium: Internet Providers to the Festival

Bushy's Big Wheel Blues Festival 2003 is a fund raising event for the British Red Cross. Please give generously.

<! - - IMAGES HERE - ->

Click to enlarge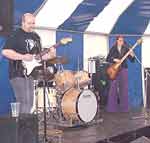 <! - - - EDITORIAL HERE - - - > On sweat bees: These stingless bees are common in the USA, and are attracted to human sweat. They are quite distinctive in that they are often a metallic green colour. In South America they are responsible for pollinating the world's biggest flower, which incidentally stinks of rotting flesh, and looks like a big willy. Enough reason to name a band after any animal.

Sweat Bees the band: Are a guitar, bass & drums three piece that plays a good smattering of blues. They first formed on Jan 15th this year, but two of them may be known to some on the Island already as ex-members of Walter Ego (Nic and Pris Bradburn - yep, they managed to tie the knot this summer). Drummer, Phil, is soon to be their brother in law too! Talk about keeping it in the family.

The band say they are trying very hard to get a really excellent set together for the festival. This has been especially beneficial for guitar player Nic, who having been diagnosed with a chronic neurological disorder in the last year, has found that playing guitar a couple of hours a day has really helped him regain nearly all the strength and dexterity he thought might have been lost. This time last year he couldn't even pick up a guitar, let alone play one! In fact, he couldn't even walk. Who says rock and roll is bad for you.

Sweat Bees were at the Queens in 2004. Check out the Queens gig by clicking here

Check the 2004 programme by clicking here or links below and throughout the site.