FESTIVAL FORUM
Debate, discussion and argument - gear, bands and gigs - it's your call
PROGRAMME 2005
What's on in 2005?
All the bands, venues and times
TICKETS
Which stage requires tickets?
Click here for all the info including eTickets
ARTISTES
Many of the Fest bands and musicians
who have appeared over the years.
Bio's, pic's and loads of info.
POSTER 2005

2004 FESTIVAL ARTISTES
The who's who of Festival 2004; pictures, links, the lot
2004 GIG REVIEWS
Photo's and Gig Reviews of ALL the stages/venues of Festival 2004
PREVIOUS FESTIVALS
Vast archive of Photo's and Gig Reviews of Previous Festivals
FESTIVAL SITE - MAP
The Festival Site map is interactive - click on any of the details for more info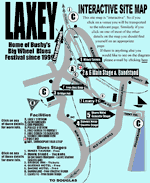 ACOUSTIC STAGE
The "Acoustic Stage" (in reality an eclectic mix of music from Delta Blues to flat out rock) at The Shore Hotel has it's own website which is now updated with new pictures and info..
ISLE OF MAN BLUES CLUB
The Manx Blues Club; where the Festival sprang from
venue, dates, history etc..
VENUES
Info & Location
NEWSLETTER: SUBSCRIBE NOW - FREE
Be in the know...first
CONTACT US
Keep us in the know and tell us about broken links, bands, gigs & any other news
MAP
Where is it? Here!
Interactive Festival Site Map
Includes Photo's of Laxey Village
TRAVEL
How to get to the Isle of Man
2003 GIG REVIEWS
Check the 2003 Festival and all the Gig reviews with a stack of pictures too
SPONSORS
Without our sonsors
there would be no
Fest - Who are these
generous people?
Lady Isabella - the Great Laxey Wheel keeps on turning...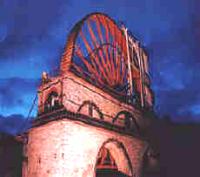 Set high on the hillside towards the hamlet of Agneash and overlooking Laxey Village is the Great Laxey Wheel and is as much associated with the Isle of Man as are the cats without tails. Built in 1854 the Laxey water wheel, known as the Lady Isabella after the wife of the Lieutenant Governor of the island at the time, was designed by the Manx engineer Robert Casement and engineered to pump up to 250 gallons of water per minute at a depth of almost 1,500 feet from the workings of the the lead and zinc mines operated by the Great Laxey Mining Company. In 1965 the Manx government bought the water wheel and the restoration work which followed, preserved it for future generations. Since 1989 it has been under the control of Manx National Heritage and is open to the public.
Click logo for Info and news about manx bands and musos

Blues in Britain Magazine
Check it out


Click to check timetables etc
and to book on-line

Click to check timetables etc
and to book on-line

Click to check timetables etc
and to book on-line
A3 Island Marquees Ltd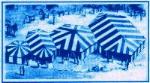 Bushy's Brewery supporting
the Fest since the last century.

Millichaps Furniture Store - Ramsey

Domicilium: Internet Providers to the Festival

PDMS: On-Line Service Providers to the Festival

Absolute Scaffolding - Blues Marquee Stage

Laxey Garage & Manx Motor Auctions

Triskel Promotions - Live Music Promotion & Support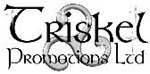 Bushy's Big Wheel Blues Festival 2005 is
a fund raising event for the British Red
Cross. Please give generously.

Quine & Cubbon Printing & Plate Making Services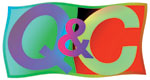 <! - - - HEADLINE GOES HERE - - - > The Bridge Inn Review - 2005

<! - - - IMAGE CAN GO HERE- - - >

<! - - - MAIN TEXT GOES HERE - - - >

Things changed this year at the Bridge Inn. For the last 6 years the Bridge has been a ticketed venue with invited bands appearing in the upstairs function room as was, now a restaurant. So, this year we went for a change and set up a PA in the downstairs bar for local musicians and bands with the emphasis on acoustic performances. It worked out really well.



Jurby Mountain Daredevils - 2005 - Click to Enlarge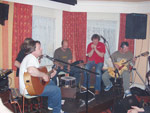 On Friday night the proceedings got off to an excellent start with a good audience and the Jurby Mountain Daredevils a musical collective of local muso's including Whispering Sid on Vocals, Patrick (Pegs) Jerry on Guitar, Simon (Bingo) Morris on Drum and Bob (Bobby-Bob) Jones on Bass. These lads are determined to have a really good time - and they do...so do we.



Danny Christian - 2005 - Click to Enlarge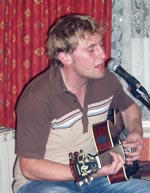 Danny Christian is a fine performer; intense, passionate and talented. He has played at the Festival on various stages over the years and his performances always draw admiring attention and in a packed Bridge on Friday night this year was no exception. Great stuff from Danny.

StoneChase are a Rockabilly outfit who not only rock the place inside out but also run the impromptu afternoon sessions at The Mines Tavern bringing all their friends together for a goodtime, feelgood, alfresco afternoon under the pergola in the Station.

StoneChase - 2005 - click to enlarge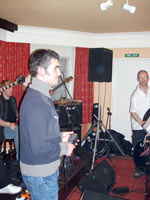 But for tonight we were inside at The Bridge Inn and I could barely make room for myself to snap a photo of the band in action, there were that many people squeezed into the bar. It was hot, steamy and a whole lot of fun... but then I had to get over to the Bridge to review StoneChase at The Bridge. Only joshing, it was great and a marvellous finish to an excellent night at the new look Bridge.


Saturday Afternoon - 2005

Many bands e-mail the Festival every year from all over the place and we can only find room for just so many of them. This year was no exception and we had to turn down large numbers of them once again so it is frustrating when after many e-mails several phone calls, website alterations and all the rest of it that one of the few who have been allotted a slot fail to show up. It has never happened before in 7 years except just once when a plane was cancelled right at the very last minute and there's nothing

Mudguard Mac 2005 -click to enlarge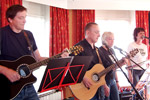 anyone can do about that. The result was that the kick-off at The Bridge afternoon session was delayed by almost an hour as we searched high and low for Two's Company.

All was in vain and Mudguard Mac with sun streaming in through the windows and doors set up a little earlier than planned to fill the breach. It turned out to be worth the wait with their four part harmony and interesting repertoire Mudguard Mac did the business.

Jimmie Gillespie 2005 -click to enlarge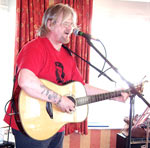 Jimmie Gillespie who had turned up nice and early was waiting for his slot and did a fine job with just his voice and his trusty guitar.

Lonesome are a two, sometime, three piece

Bill Dalton of Lonesome - 2005 - click to enlarge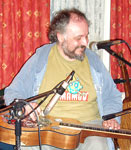 acoustic outfit. Pete Woodman, Bill Dalton and David Woodman swap and change instruments from their rack of gleaming guitars and mandolins, so if you are into slide and finger picking then this impromptu set by Lonesome would have filled your boots... big time. The best bit was that they were to be back again in the evening and of course the talented Davy Knowles sat in on a whole bunch of songs he had probably never heard before let alone rehearsed performing valiantly throughout.


Saturday Evening - 2005





BlueJay & Papa Cass - Click to enlarge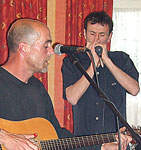 A beautiful May evening, warm and the sun still keeping the 5000-6000 Festival goers (estimated weekend total - Dept T&L) milling about the village checking out the various venues.

The atmosphere at the Bridge, like the weather was warm and welcoming as the first band for the night BlueJay & Papa Cass set up and took to the stage for a well received and perfect set to get things going for the evening

Bill Dalton of Lonesome - 2005 - click to enlarge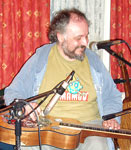 - I hope these two keep at it as it would be good to have them back again next year

The Bridge was packed by the time Lonesome returned for another set of subtle, beautifully played acoustic blues. Just the display of handcrafted resonator and standard guitars would have impressed me but the music took it to another level. Again this is a band that must come back next year.


Barry Nelson Band (taken on the Bandstand in the Blues Marquee) - 2005 - click to enlarge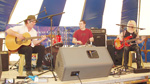 Barry (guitar & vocal), Val (bass & vocal) and John (percussion & vocal) collectively the Barry Nelson Band were last up and delivered a polished and memorable performance as they invariably do.

Thanks to all the bands and the volunteers (who helped with the PA) who made the Bridge such a fun place to be this Festival weekend.

If you have any pictures of the weekend at The Bridge I would be pleased to see them and maybe get them on this page. Please e-mail them by clicking here.

For other venue reviews click here. <! - - - MAIN TEXT ENDS HERE - - - >