Charlotte & Sophie of new band "Ictus"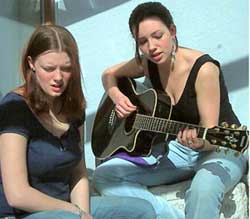 An exciting new band for the Big Wheel BluesFestival going by the name of Ictus - a rhythmical or metrical stress, according to the Oxford Dictionary, interesting.

Anyway Ictus, like so many bands before them, have a familiar history as most of it's players have been in other bands .

Sophie Scott (playing guitar in pic) is herself a former member of southern band; Flags. She plays acoustic guitar as well as main vocals. Her influences are everything from Sheryl Crow, Starsailor, Turin Brakes to the Red Hot Chilli Peppers.

Charlotte Healy (also pictured) is a talented singer/musician, studying music as well as singing in the local choir. Her influences are Eric Clapton,Tracey Chapman,Dire Straits and Aqualung.

Adam Blackburn-guitarist and vocalist. Featured in the recent Battle of the Bands with the band "Dunno".

Richard Crellin - Bass player and the youngest member of the band at just 15, is part of the Castle Rushen woodwind orchestra. Richard is an accomplished musician with divers tastes into, amongst others, Coldplay and Avril Lavigne.