Jellypond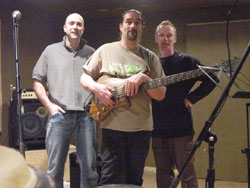 Isle of Man based Jelly Pond are a kind of latter day supergroup of very talented local musos who have learnt their art in various popular local bands over the years.

The trouble is apart from Steve Parry and, I think, Paul Kinrade, I don't know who is actually in the band! If anyone knows, e-mail me with the info by clicking here . I'd be very pleased to hear from you.

It seems, then - and thanks for the e-mail Steam - that Jellypond are:

Steve Parry, Guitar & Vocals
Paul Kinrade,Bass & Vocals,
Paul Tonks, Keys
Johnny Peacock, Drums

As Steam says; "The G.A.S.P. basically!" And none the worse for that.