Richard Moore - click to enlarge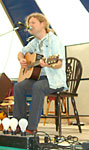 Moonshine consisted of Lol Williams Bass,Joey Rice Drums and Richard Moore Guitar and Vocals but as of 2005 Ross Cormode, ex-eNORMOUS, has taken over drum duties.

Richard and Joey will also be previously remembered in the local band eNORMOUS who gigged regularly and featured at the now infamous Bushys Rhythm and Brews week at The Bay Port Erin 2003 TT week (a Triskel Promotions event in the pipeline again for TT 2004). Lol Williams has starred in several local bands most recently Illegal .

Moonshine will provide a heady blend of smooth sometimes eclectic originals combined with a thumping brew of rock covers soothed by some classy blues and acoustic tunes.

Influences include the Stones, Led Zep, Neil Young, Hendrix and Clapton. They are busy gigging hard in the build up to the festival and can be heard at the Bushys Rhythm and Brews, Battle of the Bands and regularly at the Trafalgar Hotel on South Quay, Douglas - the unchallenged capital of the young music fraternity that has been professionally nurtured by stalwart live music lover and Publican, Earle Law.

The guys are currently busy writing and working on new compositions that may well be aired over the Festival Weekend and are confirmed for the chilled sessions on the FREE Bandstand Stage at the Riverside Music Room in Laxey Glen Gardens, which Triskel Promotions will be helping to organise and manage.