FESTIVAL FORUM
Debate, discussion and argument - gear, bands and gigs - it's your call
PROGRAMME
What's on? Click to find out
All the bands, venues and times
ARTISTES
Many of the Fest bands and musicians who have appeared over the years Bio's, pic's and loads of info.
PREVIOUS FESTIVALS
Vast archive of Photo's and Gig Reviews of Previous Festivals
SPONSORS
Without our sonsors
there would be no
Fest - Who are these
generous people?
ISLE OF MAN BLUES CLUB
The Manx Blues Club; where the Festival sprang from
venue, dates, history etc..
TICKETS
The Festival is mostly FREE
but which stages require tickets?
Click here for all the info
NEWSLETTER: SUBSCRIBE NOW - FREE
Be in the know...first
CONTACT US
Keep us in the know
TRAVEL
How to get to the Isle of Man
Domicilium: Internet Providers to the Festival

Bushy's Big Wheel Blues Festival is a fund raising event for the British Red Cross. Please give generously.

<! - - - THIS TABLE CONTAINS THE LATEST NEWS AND CAN BE VARIED IN WIDTH - - ->
<! - - - HEADLINE HERE - - - > W.C.Handy Awards Changes and Nominations
<! - - - DATELINE HERE - - - > 15th February 2006 <! - - - END dateline - - - >



<! - - - IMAGE CAPTION HERE - - -> Koko Taylor & Mavis Staples at the 2005 Awards Ceremony - click to enlarge

<! - - - IMAGE HERE - - ->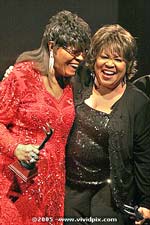 <! - - - END images - - - >

<! - - - EDITORIAL HERE - - - > The Blues Foundation announced in July that its annual recognition of the finest in blues performances and recordings was to be changed from the

<! - - - IMAGE CAPTION HERE - - -> Blues Music Awards Poster 2006

"W.C. Handy Awards" to "The Blues Music Awards" in a move to bring broader visibility to the music and to make it easier for every person who comes into contact with the name to understand what the awards honor - excellence and achievement in blues music.

On Wednesday 10th May 2006 performers, industry representatives and fans from around the globe begin to arrive in Memphis, the Home of the Blues, to celebrate the best in Blues recording and performance from the previous year. The Blues Music Awards are universally recognized as the highest honor given to Blues artists and will be presented at a glittering ceremony on the evening of 11th May 2006 at The Memphis Cook Convention Center - 225 North Main Street, Memphis.
2006 Blues Music Awards

NOMINEES

Acoustic Album of the Year

A Ship Called Love - Eric Bibb
Birthright - James Blood Ulmer
Down In The Delta - Paul Oscher
In Your Arms Again - John Hammond
Sweet Lovin' Ol' Soul - Maria Muldaur


Acoustic Artist of the Year

Corey Harris
Doug MacLeod
Eric Bibb
Paul Oscher
Rory Block

<! - - - IMAGE CAPTION HERE - - -> Watermelon Slim (Big Wheel Blues Festival 2004 standout performer - click for more info) performs at the 2005 WC Handy Award Ceremony 2005.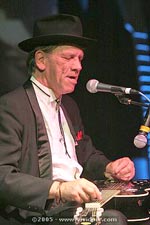 Album of the Year

About Them Shoes - Hubert Sumlin
Anything Can Happen - Magic Slim & the Teardrops
Sadie Mae - Nick Moss & the Flip Tops
That Represent Man - The Mannish Boys
Think of Me - Little Milton


B.B. King Entertainer of the Year Award

Bobby Rush
Buddy Guy
Little Milton
Magic Slim
Marcia Ball


Band of the Year

Fabulous Thunderbirds
Holmes Brothers
Little Charlie & the Nightcats
Magic Slim and the Teardrops
Rod Piazza & the Mighty Flyers


Best New Artist Debut

Billy Gibson - The Billy Gibson Band
Duwayne Burnside - Under Pressure
Eddie Turner - Rise
Mitch Kashmar - Nickels and Dimes
Zac Harmon - The Blues According to Zacariah


Historical Album of the Year

Hoochie Coochie Man: Complete Chess Recordings, Volume 2, 1952-1958 - Muddy Waters. (Chess/Hip-O Select)

Stompin' At Mother Blues - J.B. Hutto. (Delmark Records)

Strictly Live... in '85 Plus - James Harman. (Pacific Blues)

The Essential Taj Mahal - Taj Mahal. (Legacy Recordings)

The Great Johnny Adams Blues Album - Johnny Adams. (Rounder Records)


Song of the Year

"Dubb's Talkin' Politician Blues", written by Doug MacLeod, performed by Doug MacLeod. CD: Dubb

"Think Of Me", written by Jon Tiven, Milton Campbell, Pete Shoulder, performed by Little Milton. CD: Think of Me

"Twenty", written by Robert Cray, performed by Robert Cray. CD: Twenty

"What the Hell is Going On", written by Elvin Bishop, performed by Elvin Bishop. CD: Gettin' My Groove Back

"Who Stole My Radio?", written by John Hahn & Joe Hudson, performed by Shemekia Copeland. CD: The Soul Truth


Traditional Album of the Year

About Them Shoes - Hubert Sumlin
Anything Can Happen - Magic Slim & the Teardrops
Jukin' at Bettie's - Willie King
Sadie Mae - Nick Moss & the Flip Tops
That Represent Man - The Mannish Boys


Traditional Blues Female Artist of the Year

Ann Rabson
Etta James
Koko Taylor
Maria Muldaur
Nora Jean Bruso
Precious Bryant
Ruth Brown


Traditional Blues Male Artist of the Year

B.B. King
Hubert Sumlin
Magic Slim
Robert Lockwood Jr.
Willie King


<! - - -END END END EDITORIAL END END END - - - >

<! - - - WEBSITE LINKS HERE - - - >
More on the Blues Foundation Awards - formerly W.C. Handy Awards <! - - - DETAILS HERE ---> here
<! - - - END LINKS HERE - - - >


eMail your reaction to this News Item by clicking here


Click here to check the latest Festival Programme


<! - - - OTHER NEWS - - - > &nbsp&nbsp&nbsp&nbsp&nbsp&nbsp&nbsp&nbsp&nbsp&nbsp OTHER NEWS:



For the 2005 News Archive click here



For the 2004 News Archive click here





<! - - - END other news - - - >