FESTIVAL FORUM
Debate, discussion and argument - gear, bands and gigs - it's your call
PROGRAMME
What's on? Click to find out
All the bands, venues and times
ARTISTES
Many of the Fest bands and musicians who have appeared over the years Bio's, pic's and loads of info.
PREVIOUS FESTIVALS
Vast archive of Photo's and Gig Reviews of Previous Festivals
SPONSORS
Without our sonsors
there would be no
Fest - Who are these
generous people?
ISLE OF MAN BLUES CLUB
The Manx Blues Club; where the Festival sprang from
venue, dates, history etc..
TICKETS
The Festival is mostly FREE
but which stages require tickets?
Click here for all the info
NEWSLETTER: SUBSCRIBE NOW - FREE
Be in the know...first
CONTACT US
Keep us in the know
TRAVEL
How to get to the Isle of Man
Domicilium: Internet Providers to the Festival

Bushy's Big Wheel Blues Festival is a fund raising event for the British Red Cross. Please give generously.

<! - - - HEADLINE HERE - - - > Centenary Centre Gigs
<! - - - DATELINE HERE - - - > 24th January 2006 <! - - - END dateline - - - >

<! - - - IMAGE HERE - - - >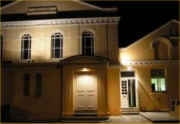 <! - - - END images - - - >

<! - - - EDITORIAL HERE - - - >

Jan 28th: Nick Barracloughs "Burglars of Barcelona". The ongoing story of Telegram Sam and the Smooth Operators. The line up is; guitar, banjo, accordion, mandolin and bass. The material ranges from cow poke laments to slick lounge songs via english folk.


Feb 3rd: Roger Leece is bringing over from London "Shedload of Love", a bunch of session players who have credits too long to mention. The line up is; guitar/vocals, sax/vocals, keyboards, guitar, bass and drums with great songs. Please support our newest promoter!

Blue Train Big Band - click to enlarge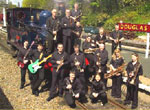 Feb 11th: The islands own Blue Train Big Band return for a great evening of swing and big band classics.


Feb 18th: "London Philharmonic Skiffle Orchestra". A mad evening of skiffle, cajun, klezmer and comedy.


March 3rd: Zoot Money Trio . Anyone as old as me will know Zoot is one of the mainstays of the 60's r&b/blues scene. His hammond organ playing and gritty vocals

The London Philharmonic Skiffle Orchestra - click to enlarge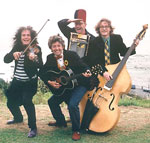 are still in demand as much as ever and plays in bands with luminaries such as Roger Daltrey and Georgie Fame.


March 10th: Rita Hartman. The international concert pianist is giving a recital includng pieces by Mozart and Beethoven .

Tickets as usual are available from:
Celtic Gold, Peel
Peter Norris Music, Villa Arcade Douglas,
Black & Blue, Castle St Douglas,
Shakti Man, Ramsey.

For more details on all these events please look at the Centenary Centre's website at www.centenarycentre.com <! - - -END END END EDITORIAL END END END - - - >
<! - - - END LINKS HERE - - - >


eMail your reaction to this News Item by clicking here
<! - - - OTHER NEWS - - - > &nbsp&nbsp&nbsp&nbsp&nbsp&nbsp&nbsp&nbsp&nbsp&nbsp OTHER NEWS: <! - - - END other news - - - >