Roadhouse "at The Bridge" - click to enlarge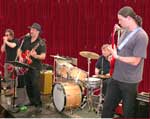 Evan - click to enlarge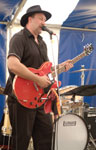 Click to enlarge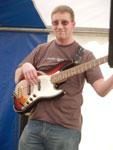 Click to enlarge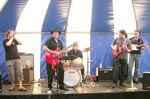 Here are a few details about the band which has re-formed after a short break.

The new line up: Evan Kelly, lead guitar and lead vocals, Graham Lloyd on drums, Alan Preston, bass guitar, Alistair Thornton, rhythm guitar and Will Radcliffe, harp.

Old Roadhouse fans will know that Evan Kelly and Graham are the only two members from the original band with the others joining this year. With the 2004 Blues Festival just around the corner the lads have been working hard putting together some rock solid foundations for the band..