Warren Owen at work in the studio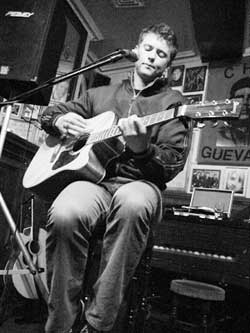 Warren Owen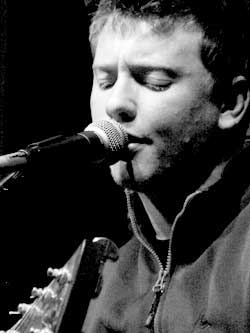 Warren, an incredibly talented young muso, still only 22, debuted at the last TRAFic Jam (at the Trafalgar Hotel, South Quay, Douglas) along with Dan Ankers and organiser Paul Salisbury on 11 March 2004. Marvellously, his entire set was all originals and it went down a storm.

He grew up in Johannesburg and has been on the Isle of Man, at the time of writing, for only 6 months but has already made an impression and guested with Christy D on Energy FM as well as Mike Buttell's Sound Kitchen on Manx Radio. Remarkably he has only been writing and playing for two years but the moment you hear him sing, you would think he must be an old pro twice his age - he has that much quality. He is aiming to make a career from this talent and already has a single available called Running and features Warren with a full band. This is a man that you must make the effort to get to see and listen to.

It may be harsh to try to compare his style but you can't help but think of perhaps the drawl of Johnny Reznik of the Goo Goo Dolls. Unsurprisingly Warren relects that they, along with the likes of John Mayer, Shaun Mullins, Dave Matthews, Pearl Jam and Lifehouse are amongst his main influences.

Be sure to try to catch his set any time you see him mentioned and as he intends to make the best effort to get as many diverse gigs around the Island in the coming months as possible there should be plenty of opportunity to catch him. He is confirmed for the chilled sessions on the FREE Bandstand Stage at the Riverside Music Room in Laxey Glen Gardens, which Triskel Promotions will be helping to organise and run, on Sunday 16th May 2004.