FESTIVAL FORUM
Debate, discussion and argument - gear, bands and gigs - it's your call
PROGRAMME
What's on? Click to find out
All the bands, venues and times
2004 FESTIVAL ARTISTES
The who's who of Festival 2004; pictures, links, the lot
ARTISTES
Many of the Fest bands and musicians who have appeared over the years Bio's, pic's and loads of info.
2004 GIG REVIEWS
Photo's and Gig Reviews of ALL the stages/venues of Festival 2004
PREVIOUS FESTIVALS
Vast archive of Photo's and Gig Reviews of Previous Festivals
ACOUSTIC STAGE
The "Acoustic Stage" (in reality an eclectic mix of music from Delta Blues to flat out rock) at The Shore Hotel has it's own website which is now updated with new pictures and info..
SPONSORS
Without our sonsors
there would be no
Fest - Who are these
generous people?
ISLE OF MAN BLUES CLUB
The Manx Blues Club; where the Festival sprang from
venue, dates, history etc..
TICKETS
The Festival is mostly FREE
but which stages require tickets?
Click here for all the info
ARTISTES
Bio's, pic's and loads of info on most of the artistes that have ever appeared.
VENUES
Info & Location
NEWSLETTER: SUBSCRIBE NOW - FREE
Be in the know...first
CONTACT US
Keep us in the know
MAP
Where is it? Here!
Includes Photo's of Laxey
TRAVEL
How to get to the Isle of Man
Stage: MAIN STAGE GIG REPORT 2003
Photo's and Report on the
Charterhouse International Blues Pavilion
Main Stage
Stage: ACOUSTIC STAGE
The Acoustic Stage has it's own web
site. You can check out: Previous
fest.s, pictures and details.
Domicilium: Internet Providers to the Festival

Bushy's Big Wheel Blues Festival 2003 is a fund raising event for the British Red Cross. Please give generously.

<! - - IMAGES HERE - ->

Barry Nelson Band - Click to Enlarge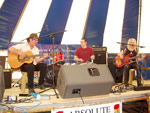 James Tinkler - Click to Enlarge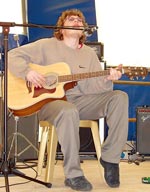 Ben Dunderdale and John Cleator - Click to Enlarge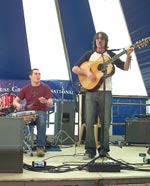 Walter Ego - Click to Enlarge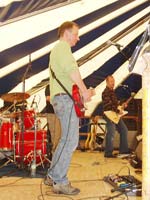 Walter Ego Rhythm Section - Click to Enlarge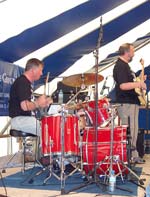 Davy Knowles of BDS on Mandolin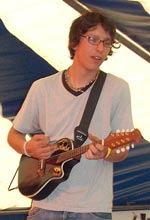 <! - - - EDITORIAL HERE - - - >

Sunday dawned overcast but not cold. There was a lot of preparation to do before the day's events could get under way and many thanks are due to those few who helped to clear up the stack of litter, discarded bit of this and that and all the rest of it. It's not a pleasant job but it simply has to be done thanks to the thoughtless many.

Eventually some sort of order was restored, the PA was up and running and there we were standing there looking around for the arrival of Outward Signs . But there was no er...sign of them. Hey ho that's Jimmie for you - his head is in a place where time simply does not figure. Lucky him.

The Barry Nelson Band stepped into the breach and played a wonderful acoustic set of mellow Sunday Afternoon material perfect for Festival Sunday and to wind down to after the rigours of the previous couple of days. Very enjoyable.

James Tinkler eventually turned up and I have to say played a very excellent set of stuff that like the Barry Nelson Band before him seemed to fit the mood of the afternoon in perfect synchronicity.

Ben Dunderdale took to the stage next, togther with John Cleator on percussion and they too joined in the lazy Sunday feel that was unfolding. The weather was picking up too and there was even the odd bit of sunshine, enough to open one of the Marquee "flaps" to get a through draft of fresh air.

Walter Ego brought us out of our quiet, contemplative mood with a blast of guitars from John Barker and Steve Courtie as they burned and slashed their way through a blistering set of blues/rock that prepared the marquee's packed to capacity audience for the treat to come...

Back Door Slam were welcomed to the stage like the stars that they might just one day become; the entire marquee greeting them with applause, whistles,

Ross Doyle of BDS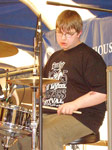 Davy Knowles of BDS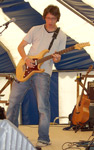 shouts and the flashing of cameras. It was really quite extraordinary and more than a little moving to witness them being received so generously by so many. This was unquestionably the highlight of the weekend and the boys rose to the occasion as though born to it.

They gave us the whole nine yards: their original material,

Jamie Armstrong of BDS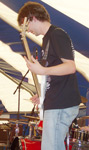 Rory Gallagher stuff on Mandolin and guitar (bringing the house down...again), blues standards, Hendrix, wailing electric guitar, subtle acoustic songs and of course Stevie Wonder's Superstition. There doesn't seem to be anything that is beyond them and through it all the diffident smiles and "you want another one - do you mind if we play one of our own?" Mind? We'd love it.

Very often the band that closes the Festival finds it's audience tired and weary after a long and enjoyable weekend but Back Door Slam enjoyed a capacity audience that was there just for them and enjoying every minute.

Some of the backstage PA gear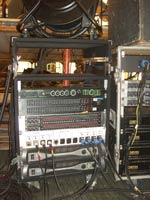 When finally it was time to play the last song, pack up the gear and close the book on the 2005 Festival it was obvious that we had all been witness to one of the finest debut performances ever. The best.

As these three lads went back to school on Monday morning they must have returned much like conquering heroes - they well deserve their hour in the sun.

Click here for The Bandstand Saturday Review as well as all the other venues.