Lux - click to ENLARGE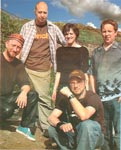 Lux are a 5 piece local band who have quickly established themselves on the

local music scene since they formed sometime in 2003. Apart from their live gigs they have done an interesting live acoustic broadcast on Manx Radio (pictured).

Lux are:


Colin Davidson (37) Guitars and vocals. Previously a bass player, past bands include Big Blue 72, Citizen Kane and The Swiss Family Orbison. The SFO released a self titled album in 1998 to great critical acclaim but for little commercial gain. John Peel, in Dec 1997, described it as "one of the best albums I have heard all year". Colin has, in the past, been a librarian, a radio researcher and a steward at a football ground among other less glamourous things. He moved to the Isle of Man in 2003 and met up with the rest of Lux and made the change from Bass to guitar. The rest, they say, is recent history.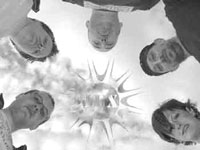 Mike is 26 and wrote his first song on his first night at university. It was crap! Fortunately, in the following few years he managed to pen a few gems, enjoying minor local success in Newcastle. He was instrumental in forming Lux in February after agreeing to play a Scout gig in June with a then non-existent band naming the said creation after a character played by Kirsten Dunst in the film "The Virgin Suicides". Mike teaches stuff to small people so he can afford to eat.


Steph is a classically trained musician and teaches music on the Isle of Man. She has a wide knowledge of a variety of musical styles and has been a member of various types of bands from rock to folk and classical. She is a versatile musician and can turn her hand to anything Lux's songwriters have thrown in her direction and complements the different styles within the group with great applomb. An exciting performer, she has stolen the show on a few occasions as much with her on stage behaviour as her keyboard playing.


A lobster fisherman by trade, Danny has had a long and varied career playing drums and percussion with various bands including Mad Jack's Travelling Circus and Oasis (though Liam and Noel would have been fighting in their pram at the time). Also a keen knob twiddler he's engineered many fine recordings by the likes of Terrorvision, Warrior Soul, and The Suns of Arqa. Possessed of a slightly higher IQ than most drummers, he can tie his own shoelaces.


Paul Carr started playing bass after seeing Iron Maiden in his teens. Always wanted to be like Steve Harris, but then got a life... biggest influence in his playing is now Flea of the RHCP's . Previously in bands called 'The Chocolate Tadpole Love Experience' and the 'Tasmanic Witch Doctors' but enjoyed most success with 'The Smelly Beer Crotch Love Band' which lasted for four years at Brunel University, with the biggest gig supporting Then Jericho (when people had heard of them)

You can check out the Lux gig at the Shore Hotel Acoustic Stage of the 2004 Isle of Man Blues Festival by clicking here