Kate Clague opens up Festival 2004 at the Bridge Inn
Click to enlarge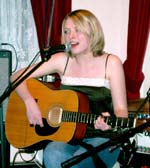 Kate & Oliver Clague at the Bridge
Click to enlarge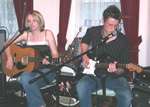 Darryl consults the oracle. Felix checks the time...
Click to enlarge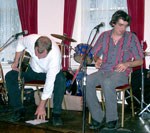 Darryl and his rather nice shiny steel mandolin
Click to enlarge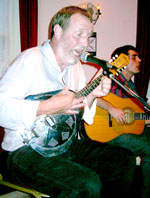 Smiling Jack Smith
Click to enlarge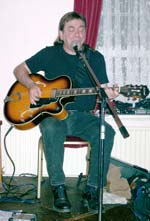 Johnny G clearly enjoying the gig with Smiling Jack
Click to enlarge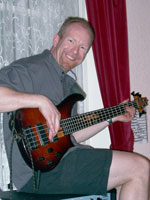 Macca keeps an eye on Jack
Click to enlarge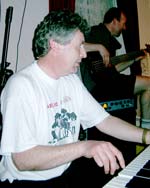 Jack promotes his new CD - trying to avoid excess baggage on the way home - well, that was his story
Click to enlarge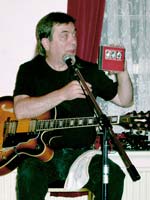 The Time: Friday Night - 14th May 2004
The Place: The Bridge Inn, Laxey Town.
Upstairs at The Bridge Inn being an intimate and I suppose you might say cosy venue it is not so hard to sell out your tickets especially at three quid a pop for 3 good bands. And so it proved to be on this warm and almost balmy Friday night.

New to the Festival and new to me were Canadian, Isle of Man residents Kate and Oliver Clague who were first up to a very nice, appreciative audience. Now Kate would be the first to tell you that whilst she loves the Blues and it's history she is not in any real sense a blues player. Nonetheless she gave us a very accomplished, sensitive and heartfelt set of serious, introspective songs from her own oevre and those of her favourite artistes with Brother Oliver providing some accompanying guitar licks and support never overpowering or getting in the way of Kate's mature and attractive voice. This, for me, was a very cool way to start the evening.


Roadhouse slide and shift shape into the Bridge Inn by way of the Queens stage...click to ENLARGE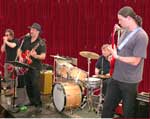 Now Roadhouse are a different cup of meat altogether...Red meat really. They're into r 'n b and I for one was ready for a bit of that too just by way of contrast and a mood change. An hour of solid boogie, lovely.

Molly Brown had been called in at the last minute to play the Charterhouse Group International Main Stage when Tim Hain & Worx had been stranded on a duff 'plane in London but were well and truly up for it at 11.00pm or so and gave the Bridge a solid hour of great fun and enjoyment.

Molly Brown morph from the Main Stage at The Riverside Music Room on to the Bridge Inn 2004 - click to ENLARGE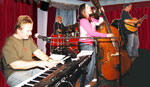 Kelly's deft and fluent upright acoustic double bass, Paddy's brilliant guitar playing (for me Paddy was the best guitar player at this year's festival and he was in some very good company) Mark Steads skilled Keyboards and Kel's very impressive and sometimes off the wall percussion (but always on the beat) and all four singing too provide the components for a very fine band indeed. They entertained and impressed. No wonder the crowd wanted a lot more.

Saturday Night 15th May

It had been a beautiful day on the Isle of Man. Warm, sunny and dry. A perfect setting for a stroll around Laxey town taking in the bands at the various and varied venues participating in this year's Festival. The Bridge had been busy all day but whilst there had been muisc throughout Laxey it didn't start here until 8.30pm - actually a little later...but it was worth waiting for.

Felix Slim and Big Darryl were first off the grid. Darryl with his lovely, old, battered Gibson Acoustic (anyone know what model it is?) rolled into an old ragtime tune accompanied by Felix on harmonica and guitar. Felix is a wiry sort of a bloke with long thin fingers that fly over the fret board in a flurry of activity that reflect his almost hyperactive persona. He seems to be playing for all he is worth and yet the sound that emerges is subtle and never gets in the way of Darry'ls own playing or vocal . And when Felix sings well close your eyes and you could be listening to a 78 rpm recording from the 30's. He has a reedy, heartfelt quality to his voice that oozes emotion and whilst the words are hard to really fathom then so they were on those old recordings too. Felix is Spanish and whilst his English is a damned sight better than my Spanish (which begins and ends at "dos cervezas por favor y una plata de potatas fritas") he learns his songs by ear, not always understanding the subtlety of the meaning - me too, mate - but he loses none, not one tiny bit of the power of those tunes. It was a really enjoyable set.

By one of those strange coincidences that are hard to explain the next man up was Smiling Jack Smith who, whilst from the USA, actually lives and works in Madrid, Spain. He was playing with local rythym section



The Dodger keeps things tight for Smiling Jack

Click to enlarge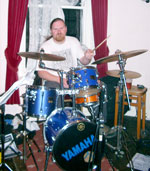 Roger Leece (drums - see pic, right) and Johnny G (bass) and with Keyboard player Dave McLean (also an important cog in the Festival team). This was a set, for me, of pure delight. All the songs, written by Jack, were introduced by him with an explanation of their origin and meaning and were played by the band with an energy and enjoyment that only good musicians, in good form, having real fun can manage. It was very infectious and when Jack finished with his enigmatically titled song "yeah, yeah, no, no" the audience just had to join in and looking around the room there was nothing but smiling faces. Jack had well and truly lived up to his name.



Emily Druce

Emily Druce and Steve Jones headlined the Brige Inn in 2004 and Emily rang the changes with a stint on the fiddle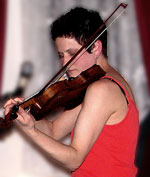 Emily Druce and Steve Jones are well known to Big Wheel Blues Festival-goers as Emily has been across several times and was joined by Steve last year. These two are perfectionists and

Emily Druce at The Bridge Inn 2004 Festival

Click to enlarge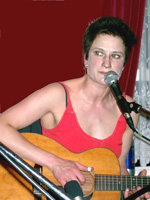 their songs are crafted to a high degree of precision and so indeed are their guitars made by hand in Steve's own guitar Workshop. Steve is a committed Luthier and the guitars they had with them on this gig were finished to a standard which defied my admittedly casual inspection to find any fault whatsoever - they looked and sounded marvellous. So did the new album which was given a good airing and very fine it is too and whilst the audience had thinned out a little as people left to catch the Charterhouse Bandwagon Free buses those that hung

Emily Druce & Steve Jones at The Bridge Inn 2004 Festival

Click to enlarge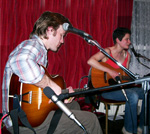 on were reluctant to let these two stop despite their "redeye" flight on the Sunday morning. They were well rewarded by Emily and Steve who looked to me set to play all night but the time had come for us to head out into the cool night air.