FESTIVAL FORUM
Debate, discussion and argument - gear, bands and gigs - it's your call
PROGRAMME 2006
What's on this year?
All the bands, venues and times
TICKETS
Which stage requires tickets?
Click here for all the info including eTickets
ARTISTES
Many of the Fest bands and musicians
who have appeared over the years.
Bio's, pic's and loads of info.
PREVIOUS FESTIVALS
Vast archive of Photo's and Gig Reviews of Previous Festivals
ISLE OF MAN BLUES CLUB
The Manx Blues Club; where the Festival sprang from
venue, dates, history etc..
NEWSLETTER: SUBSCRIBE NOW - FREE
Be in the know...first
CONTACT US
Keep us in the know and tell us about broken links, bands, gigs & any other news
TRAVEL
How to get to the Isle of Man
SPONSORS
Without our sonsors
there would be no
Fest - Who are these
generous people?
Lady Isabella - the Great Laxey Wheel keeps on turning...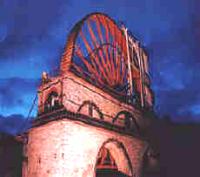 Set high on the hillside towards the hamlet of Agneash and overlooking Laxey Village is the Great Laxey Wheel and is as much associated with the Isle of Man as are the cats without tails. Built in 1854 the Laxey water wheel, known as the Lady Isabella after the wife of the Lieutenant Governor of the island at the time, was designed by the Manx engineer Robert Casement and engineered to pump up to 250 gallons of water per minute at a depth of almost 1,500 feet from the workings of the the lead and zinc mines operated by the Great Laxey Mining Company. In 1965 the Manx government bought the water wheel and the restoration work which followed, preserved it for future generations. Since 1989 it has been under the control of Manx National Heritage and is open to the public.
Click logo for Info and news about manx bands and musos

Blues in Britain Magazine
Check it out


Click to check timetables etc
and to book on-line

Click to check timetables etc
and to book on-line

Click to check timetables etc
and to book on-line
Bushy's Brewery supporting
the Fest since the last century.

Millichaps Furniture Store - Ramsey

Domicilium: Internet Providers to the Festival

PDMS: On-Line Service Providers to the Festival

Triskel Promotions - Live Music Promotion & Support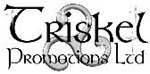 Bushy's Big Wheel Blues Festival 2005 is
a fund raising event for the British Red
Cross. Please give generously.

JOHN HAMMOND - FESTIVAL 2006!
The "legendary" John Hammond

John Hammond the virtuoso bluesman, singer and guitar player was on the Island for four days and appeared on the Main Stage in the Pavilion Ballroom, Laxey Glen Gardens, on Friday 19th May 2006 as well as making unscheduled appearances with one of the Island's top Blues Bands, Wicked Grin, to a surprised and hugely delighted audience.

For more info on Maestro Hammond click here.



RB Morris and Hector Qirko at the "Thinq Tank" Knoxville, Tennessee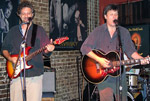 John Barker, this year's first time Fest Organiser, returned the Festival to it's roots with a major reduction in venues and bands, with the weekend-long Festival based around pure Blues gigs in the Pavilion Ballroom, Laxey Glen Gardens, two gigs (Friday night and Saturday night) were tickets only and both sold out in advance. The Saturday afternoon session was free. There were "fringe" gigs in the Laxey pubs. This part of the event, which clearly added to the atmosphere of the weekend, was run entirely independently of the Official Festival Organisation for the first time. See the various news items at the top of the page for more details or here.

Connie Lush



The details were as follows:

FRIDAY EVENING: 19th May 2006

Festival Friday on the Main Stage in the Pavilion Ballroom, Laxey Glen Gardens, was another brilliant winner this year with slide virtuoso Kevin Brown, the wonderful

Kevin Brown

RB Morris and Hector Qirko from Tennessee and the legendary John Hammond.

To see a report on the gig click here.

SATURDAY AFTERNOON 20th May 2006 (free)

The Saturday Afternoon free stage in the Pavilion Ballroom , Laxey Glen Gardens, had Anna Goldsmith, Walter Ego, Stone Creation and Wicked Grin. strutting their excellent stuff. John Hammond also made an unexpected and much lauded appearance with Wicked Grin, making the band's day - big time.

To see images and a report of the afternoon click here.

To view the Programme click here.

Steve Clayton



SATURDAY EVENING 20th May 2006:

The Main Stage in the Pavilion Ballroom , Laxey Glen Gardens, featured 2005's big festival favourites Backdoor Slam followed by Steve "Big Man" Clayton and, top of the bill, award winning and fabulous live performer, Connie Lush and Blues Shouter.

There is a gig report of the Saturday Evening Session, with photographs, here.

To take a look at the 2006 Programme please click the Programme link to the upper left (and throughout the site too) or here.


IS THE FESTIVAL A COMMERCIAL EVENT?
No. It is a fund raising, non-profit making event organised and run entirely by unpaid volunteers who bring their experience of working in the commercial, professional and business arenas to the festival. They all share the following aims:

1. To provide a week-end long festival of live music in Laxey for as many people as possible and wherever possible FREE

2. To provide the best possible quality of music

3. To involve as many local people and businesses in the festival as possible - this is very much a "community" event

4. To give the largest possible number of local musicians an annual opportunity to play on a professional stage with other professional musicians and technicians with professional equipment

5. To raise funds for our selected charity(s) and good causes.

6. To provide everyone involved with a weekend of fun and enjoyment

7. To provide our sponsors with a weekend of informal entertainment for staff, clients and friends as well as a presence at what has become a successful annual event.
The sea crossing to the Isle of Man can be one of the cool things about the place. Choose either the Sea Cat from Liverpool (takes about 21/2 hours) or one of the boats from Ireland; Belfast or Dublin, Troon in Scotland, or from Heysham, North of Liverpool (4 hours approx) and these can be enjoyable in their own right. There are bars and restaurants, TV, films and quiet areas. If you book well in advance it will be a little cheaper than if you leave it to the last minute. If you book air tickets well in advance big savings can be made.

So, click here for more information and links for booking on line.

Flights take about an hour from just about anywhere for some reason and are a hell of a lot cheaper if you book well in advance. Click here for more information and links for booking on line.
In previous years a free bus service back to Ramsey and Douglas at 12.30am both nights of the Festival was available. With the downsizing of the 2006 Festival there will ONLY be a late-night coach back to Douglas for which there will be a charge of £2.00 and only gig ticket buyers will qualify for a bus ticket. Click here for more.

Regrettably Public Transport to and from Laxey is very limited - please complain to the Isle of Man Transport Authority - perhaps, with enough public pressure, they will be able to do something about it
Write to: Transport Headquarters, Douglas, Isle of Man IM1 5PT
Tel (01624) 663366
Fax (01624) 663637
Timetable enquiries Telephone: (01624) 662525


PREVIOUS FESTIVALS
To see a stack of info about previous Bushy's Big Wheel Blues Festivals please click here or on links throughout the website.