Walter Ego play an excellent set to a tiny crowd on the Bandstand Stage - click to ENLARGE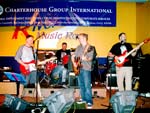 Jim Houghton of Walter Ego at The Bandstand Sessions 2004 - click to ENLARGE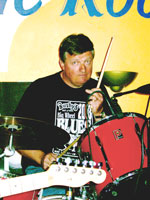 Derek Baldwin on Bass with Walter Ego at the Bandstand Sessions - 2004 - click to ENLARGE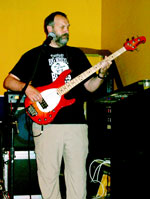 Steamroller on stage at the 2004 Bandstand Sessions - click to ENLARGE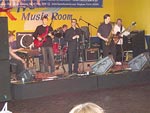 JR Vocals and Harp with Steamroller at the 2004 Bandstand - click to ENLARGE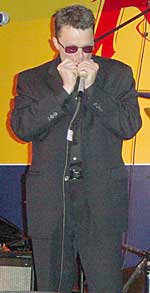 Phil Jennings and Gibson with Steamroller - Riverside Bandstand Stage - 2004 - click to ENLARGE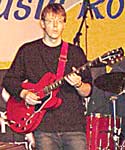 Molly Brown - click to ENLARGE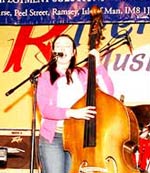 Paddy Kirkman: nimble fingers, talent, and lots and lots of practice=great guitar player - click to ENLARGE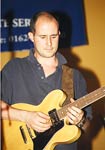 Mark Steads at the keyboard with Molly Brown - 2004 - click to ENLARGE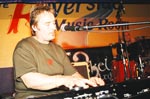 Jimmy Tinkler played an excellent set of songs at The Bandstand Sessions 2004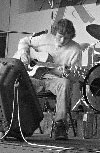 Anglin wrestles with the controls at the Bandstand Sound desk - 2004!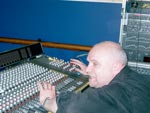 Mark takes over engineering duties at the Bandstand Sound desk - 2004!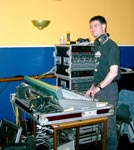 Stewie of the Shedmen at The Bnadstand Sessions - 2004 - Click to ENLARGE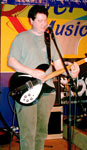 Sean of the Shedmen at The Bandstand Sessions - 2004 - Click to ENLARGE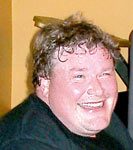 Barry & Mick (on the bass) of the Shedmen at The Bandstand Sessions - 2004 - Click to ENLARGE

| | |
| --- | --- |
| | |
The Riverside Music Room
Saturday 15th May 2004
12 - Noon
The weather was just the most sensational; warm, sunny, windless, quite the best.
Steamroller and friends taking in some rays outiosde the Bandstand 2004 - click to ENLARGE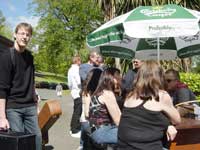 It was a day to be outside, sitting in the sun, taking a cool drink, possibly an ice cream or a BB King Burger (followed by a Blind Lemon er... Meringue - well, possibly but let's not get carried away here) down at The Mines tavern . It was a weekend to remember. It was also a weekend to be wandering around town with a few friends, taking in the vibe at The Queens or maybe The Shore or possibly just lying in the sun outside the Mines - enjoying the sounds and the atmosphere. Let's face it, being inside just wasn't the best plan. But this was the finest weekend of May weather that I have seen in the 6 years of being involved with the Big Wheel Blues Festival and in the past, being inside out of the wind and rain has seemed like a pretty cool idea. Not so this weekend. Hey ho.

OK, so we were inside at The Riverside Music Room for The Bandstand Sessions and a big audience we didn't have. People came and sat for a while, maybe had a drink in the Laxey Glen Gardens but it was pretty much a coming and going thing. Having said that there was some great music too.

Outward Signs at the Bandstand Session Sunday 16th May 2004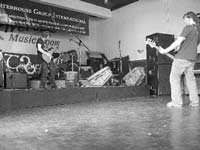 First up was Outward Signs who play, amongst other stuff, a lot of the old Led Zeppelin repertoire - really rather well. They did not let the fact that the room was not exactly heaving put them off one little bit. They got on with it and quite frankly they rocked. Good on 'em.

Walter Ego strolled up the hill with wandering guitar pal Steve Courtie . John Barker was still wondering (wandering and wondering?) if the printed programme was right and Bartoads would be playing next. But no, all was as it should be according to the website
Walter Ego contribute to the Bandstand Sessions - 2004 - click to ENLARGE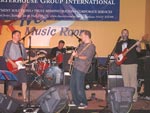 and they were due to follow Outward Signs and I must say played a set of blues "standards" that was more or less the ticket for me. I saw the various members of Walter Ego playing here and there all over the Fest weekend and never mind the music - that speaks for itself - their sheer stamina impressed the hell out of me.

First time on the Bandstand for The Cahonies and the crowd was a disappointment - nothing to do whatsoever with the excellent and uncomplaining Cahonies it was just the weather (everyone was outside in the sunshine) - but they played to the standard that we have come to expect of them with all the passion and enthusiasm that a packed out auditorium might have deserved - nice one lads.



Steamroller take to the Riverside Bandstand Stage - 2004 - click to ENLARGE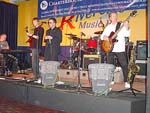 A bit of a crowd started to appear and the excellent and mob handed (there are seven in the band) Steamroller started to assemble in the sunshine - see pic at top of page. Rollcall being complete and all present and correct the band hit their stride straight away with the now familiar Duke, JR's harmonica sounding particularly sweet I thought. Taking vocals on the Etta James classic,

Steve Turner in the engine room for Steamroller - 2004 - click to ENLARGE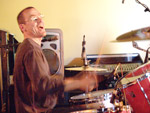 "Sunday Kind of Love", was Maria Killeen - a very, musically, attractive counterpoint to JR. Keyboard player Steve Gray got into it with his solo on Muddy Waters' "Caldonia" and Phil Jennings playing his rather beautiful Gibson 335(6?) shows what a strong player he is particularly on "Worried Life Blues" and "Watch Out". Of course the rhythm section of Steamroller are at the heart of the matter and the driven shuffle groove of "Watch Yourself" with

Bass player Dave Quayle with Steamroller at the Bandstand Sessions 2004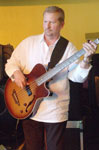 Dave Quayle (picture left) on bass and Steve Turner on Drums was great.

Stephen Hind blows a very cool sax with Steamroller at the Bandstand Sessions 2004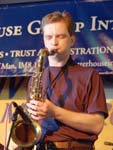 Let me tell you too that the Sax player, Stephen Hind ,is some player - which particular bushell has his light been hiding under? A rather fab hour of Blues all 'round and with Steamroller due to support Smokestack at The Centenary Arts Centre Peel the following night, the band was sounding on really top form.

And so it was Molly Brown's turn to come in out of the beautiful afternoon sunshine still warming the umbrellas around the "Riverside" . We have come to expect an ever more interesting repertoire of music from Molly Brown and in my opinion they get better each time I see them. Kelly's vocals and double bass playing (how does she do that?) speaks for itself. For such a consummate performer Kelly can sometimes get a touch of stage fright (and nothing wrong in that) but who would ever guess? Kelvin Leitch on percussion is an original and talented character and although often (but not always) tucked away behind his kit he never fails to make his presence felt and is as rock solid as any rythm section could want.

The hands of Mark Steads tickling the ivories - 2004 - click to ENLARGE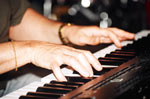 Boogie-woogie can trip up the best keyboards players but never Mark Steads . It was great to see him playing accordion elsewhere at this year's Festival too.

Paddy Kirkman in full flow with Molly Brown - 2004 - click to ENLARGE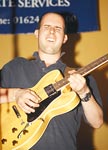 Paddy Kirkman is a guitarist that many of the guitar players that I have spoken to at the Fest this year pick out for particular praise and admiration. You don't get this good by being lucky - it takes a lot of serious, hard work and practice, practice and yet more practice. He has an "effortless" style that doesn't kid anybody who knows a bit about guitar. Whether he is playing jazz or full-on rock Paddy kicks some serious arse let me tell you. Oh, and did I mention that they sing four part harmony? No? Well they do. Makes me green, green, green...

Sunday Hangover session 16 May 2004
From L.C.
Well the weather ,in all its glory, was actually detrimental to the support for this the first additional day of music for the Festival. The scorching weather of the last 2 days kept people outdoors whilst the bands plugged and strummed their wares indoors. At midday we were treated to a wonderful set by Jimmy Tinkler who was no stranger to the festival this year having already played several gigs both solo and with Outward Signs around the joints before the Riverside Music Room. He gave us some wonderful rousing and soulful numbers, all self penned which were appreciated by the handful of early birds to arrive at the venue.
Next up were Ictus who formed just prior to the weekend and consisted of Sophie Scott, Charlotte Healy and Richard Crellin who between them knocked out a great array of covers from Joan Armatrading (playing the Villa this July) to Stereophonics . A little shaky to begin with first-ever gig nerves but with some professional tweaking from Mark and Jonathan behind the desk the band were back on form and delivered a delightful 40min set culminating in their first ever encore which was again from Ms Armatrading.
Malaka have taken many forms in the past and todays duo were Amy Scanlon and Cheryl Molyneux both on acoustic guitars and vocals. This was hailed as one of the last ever performances for the pair as Malaka disband when Amy leaves for London in the coming months. The girls had no problem performing their own songs as well as the odd classic by PJ Harvey. Again appreciated by the few that dared to come in from the heat.
Moonshine confidentally stepped things up a gear with a 3 piece group etching a strong blues edge with classic Hendrix and likes. Richard had earlier in the week played a great spot at the Acoustic stage before embarking on a stronger electric set for the Riverside Music Room.

Warren Owen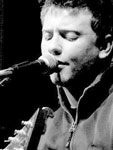 These guys, along with Jimmy's band, will also be performing for Triskel and Bushys at the Infamous Rhythm and Brews week on the beach in Port Erin TT2004.
They were followed by popular South-African singer/songwriter Warren Owen who has made a huge impression on the local scene in the few short months since he arrived. He played several original songs including his debut single "Running" as well as some generous nods to the likes of the Goo Goo Dolls and Shawn Mullins. He was lucky enough to have his own fans rousing him along!


The Shedmen in action on the Bandstand Stage 2004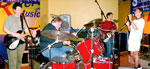 Shedmen neither needed an introduction or to be asked to wack up the volume to 11 and deliver a blistering set of class punk covers featuring everything from The Buzzcocks to Green Day and even managed along the way, to take requests from every single one of the audience. Loud but incredibly tight, the band drew to a close what was a most enjoyable weekend of musical bliss. Whilst it was nice to have such fab weather, it is hoped the additional day will prove a popular choice to showcase the more mainstream local bands who get a chance to play at the now firmly established Big Wheel Blues Festival.
Big thanks as ever to Mark, Anglin and Jonathan for the sound, to all the bands and supporters and Noreen and Mathew at the Riverside Music Room.
See you all next year.
Triskel Promotions Ltd who volunteered Lenny's time and er... expertise to this year's Festival for free gratis and for nothing, wer busy postfestival with the Bushys Rhythm and Brews gigs on the beach (4-10 June 2004 in Port Erin) and also announced a coup; hosting the one and only Deacon Blue who will play at the Royal Hall, Villa Marina 28 August Bank Holiday 2004 .