A couple of good old boys get into it at the Shore Bar - 2004 - Click to ENLARGE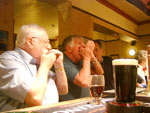 Al Lawrence - Click to ENLARGE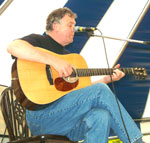 Richard Moore - 2004 - Click to ENLARGE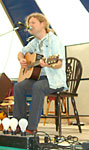 Sound desk with Emily Druce & Steve Jones on stage 2004 - Click to ENLARGE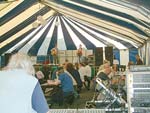 Felix Slim & Big Darryl Williams 2004 - Click to ENLARGE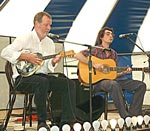 Felix Slim on Harp - Click to ENLARGE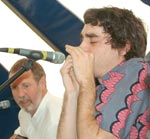 Smiling Jack Smith works up a sweat in the warmth of the sun struck marquee - 2004 - Click to ENLARGE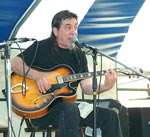 Some of the Crowd down at The Shore 2004 - Click to ENLARGE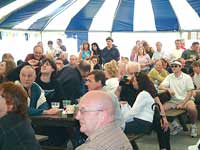 Some more of the Crowd in the Blues Marquee down at The Shore 2004 - Click to ENLARGE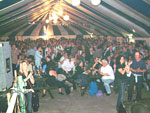 A perfect azure sky over some of the Crowd at The Shore 2004 - Click to ENLARGE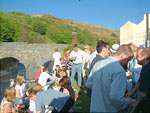 Nicky of Cocahiba down at The Shore 2004 - Click to ENLARGE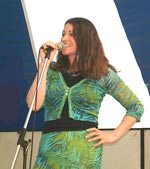 Someones been at The Mr Sheen again - Double Bass down at The Shore 2004 - Click to ENLARGE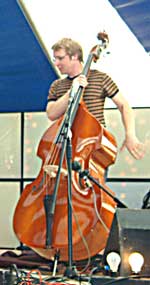 The Shore Hotel, Lower Laxey
Friday 14th May 2004
7.30pm
A wonderful weekend, inside and out, in the Blues Marquee at The Shore Hotel - 2004 - Click to ENLARGE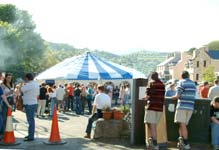 The Acoustic Stage has it's own web site and you can visit it by clicking here . What follows has been pinched from that site...

For the first time in 6 years the opening musician, Jimmy Tinkler , was late...only 10 minutes but it put us behind and we were just a bit miffed with Mr Tinkler but not for too long. Any one who has seen this young bloke will know that he has got a lot of talent and for my money his acoustic set is the winner but there will be plenty who disagree and prefer his electric set with Outward Signs and for them their set at The Riverside Music Room Pavilion will have been the one to catch. Me, I go for the acoustic version.

Mr Riff
Mr Riff takes a stroll around the Blues Marquee at The Shore 2004 - click to ENLARGE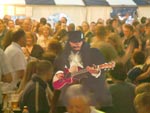 was waiting in the wings on this warm May night and duly came on to entertain in his familiar top hat 'n tails. But they didn't last long as for the first time that I can remember the warm night air was enough for Mr Riff to discard both hat and coat and fleetingly we thought that he might discard all but guitar and boots. With some relief I can tell you that Riffy kept his kit on although there was just a moment there...Always good value, Mr Riff delivers unfailingly.

Jelly Pond . Surely G.A.S.P. plus Paul Tonks by any other name?

Lux - I haven't yet received any images of Lux or Jellypond at The Shore this year - Can anyone help?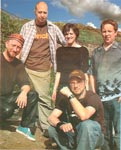 Whatever. Steve Parry and Co do the business and didn't disappoint (do they ever? I don't think so). Their harmonies are as sweet as a nut, their playing is subtle and yet powerful. Marvellous. Here's a good one: Jelly Pond claim to be "grossly under-rehearsed"! Laugh? Can't stop...

Lux came to the stage with the job on after Jelly Pond but Lux weren't remotely fazed and a great set followed which pleased the large crowd no end. These guys all teachers? Get outta here.
Saturday
14th May 2004
1.15pm



The Blues Marquee Crowd spill out into the sunshine at The Shore Hotel- 2004 - Click to ENLARGE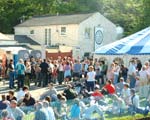 Richard Moore kicked things off to a growing and appreciative crowd with a very enjoyable set indeed. The opening slot on any stage is never as exciting for the performer as going on later in the day but Richard did a great job as did Al Lawrence who followed.

Al is very accomplished finger picker and has appeared regularly on the Acoustic Stage and never fails to impress with his cool style and excellent musicinaship.

Felix Slim & Big Darryl Williams (pictures - left) were next up and by now the Marquee was more or less full and there were a lot of people enjoying the sunshine and listening to the music outside where the sound was still excellent. Darryl appeared at the Acoustic Stage some years ago but Felix Slim was new...and great. A regular performer at some of Spain's biggest Blues Festivals, Felix lives for the Blues. It is not only what he does but who he is. Let me tell you that if you didn't catch him singing Robert Johnson then you missed the most passionate and impressive performance - he even seems to get the scratches on those few recordings that there are of Mr Johnson. Incredible.



Emily Druce & Steve Jones take to their feet eschewing the Shore chairs! - Click to ENLARGE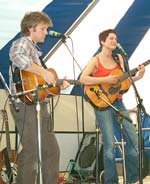 Emily Druce & Steve Jones gave one of their sublime performances as a taster of what you could expect later on at The Bridge Inn . By standing for their performance I must admit they surprised me as whenever I have seen them in the past they invariably sat. Veeery Interesting. It didn't seem to affect the playing one little bit and, as usual, it was of a very high standard and, for blues lovers like me, one of the highlights of the afternoon.



Smiling Jack Smith and Felix Slim discuss finger picking technique at The Shore 2004 - Click to ENLARGE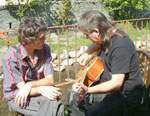 Smiling Jack Smith was a new one on me but I took to his music right away and one hell of a nice bloke too. There is something about this self-effacing and charming bloke that is definitely a one-off. I was particularly impressed when he passed on a finger-picking lick or two to the younger Felix Slim whose passion for the music immediately impressed Smiling Jack (and the rest of us).

Smiling Jack Smith at The Shore 2004 - Click to ENLARGE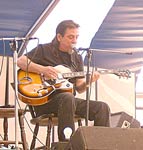 They are both from Spain but had never met before so there was much for them to talk about, particular the Spanish Festival scene. Anyway Jack gave a very tight and enjoyable display of his self-penned tunes which the crowd thoroughly enjoyed and then stayed on at the Shore after his own set and was seen clapping/singing along and generally encouraging the audience to support his fellow players. A very nice touch. It was great having you at the Fest Jack.



Cocahiba at The Shore 2004 - Click to ENLARGE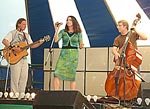 Cocahiba - Cohiba that once was - were up next. Nicky and Kin plus an upright bass player (didn't catch the name - sorry) were more "professional" than ever this year and gave a polished and enthusiastic performance of largely their own music which everyone enjoyed immensely. It's aint the blues but then that's what the Shore is all about; live music and then more live music.

Wheatbread Johnson was no show unfortunately - some contractual cock-up apparently but Danny Christian

Danny Christian steps in at the 11th hour and plays a cracker in the Blues Marquee down at The Shore 2004 - click to ENLARGE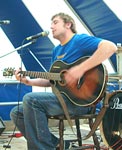 stepped in at the 11th hour and the 59th minute to take their place and we were very grateful to him for doing so. He played a storming set actually, has a great voice and is a real talent. Cheers Danny.

South African expat Warren Owen was next on stage and his excellent attitude to performance as well as his marvellous voice and playing were a pleasure and at the end, he got a very good and well deserved reception from the packed marquee crowd. We hope that, like Danny, he'll be back.

Two solo players and then Mr Riff made it three in a row - what was happening? Well Wheatbread's no-show forced this upon us but in fact we weren't too bothered as it turned out great but Riffy had the job on and he worked harder than ever;

Click to enlarge and see Mr Riff up on the tables with an absolutely packed Blues Marquee down at The Shore 2004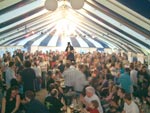 he was out amongst the audience, standing on the tables etc. and you have to hand it to him he does grab an audience and holds on tight sustaining our attention and getting the adience involved. Which was just as well as I could sense the crowd were beginning to feel the need of a shot of electric guitars and drums . But when the Doctor comes calling it is not many who can resist his charms and as usual Mr Riff's prescription had the Shore Tent very well prepared for the band next up... Truman Falls who were waiting in the "wings" with Molly Brown .

No bass player (away for the weekend I am told) but



Truman Falls rocked the marquee down at The Shore 2004 - Click to ENLARGE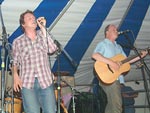 Truman Falls did the buiness - in aces. This was an astonishing crowd-pleasing performance of hugely popular covers the likes of which the Shore has not seen before. Crowd "Surfing" at The Shore - crikey, what next? Whatever these blokes do to play like this, I want to know about it.

Truman Falls rocking the marquee down at The Shore 2004 - what, no bass player? Click to ENLARGE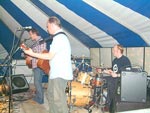 They had us up dancing and boogeying and just generally going bonkers. It was great, really great.

Poor old Molly Brown wondered what they had done to deserve to follow a show-stopping performance like the one they had just witnessed and now it was their turn to go on stage!

Molly Brown has the place jumping down at The Shore 2004 - click to ENLARGE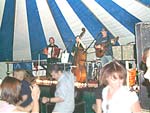 They needn't have worried, the Shore audience loves a good band and whilst they were reluctant to let Truman Falls go they took to Molly Brown almost immediately and it did an old fellah good to see all that jiving (young and old) as Molly Brown got into it. The audience, the biggest we have ever had at The Shore, didn't want to let Molly Brown go back to their hotel but, as the saying goes, all good things must come to an end.

What a night, what a weekend, what weather and what a festival. 2004 was a vintage year - thanks to all the musicians. Many, many thanks to those marvellous musicians.