Molly Brown
Click to enlarge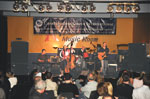 Molly Brown Closer
Click to enlarge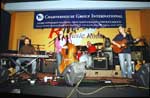 Wheatbread Johnson
Click to enlarge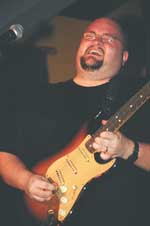 Wheatbread Johnson Band
Click to enlarge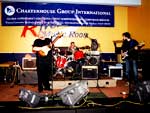 Wheatbread Johnson rhythm section
Click to enlarge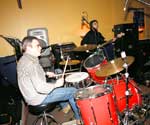 Marcus Malone Band
Click to enlarge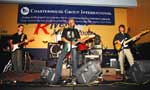 Marcus Malone Hails the Main Stage Audience
Click to enlarge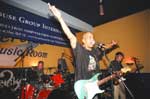 Watermelon Slim - click to enlarge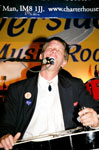 Watermelon Slim - click to enlarge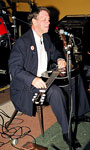 Watermelon Slim - click to enlarge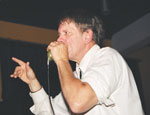 Guy Davis - click to enlarge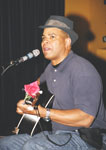 Guy Davis - click to enlarge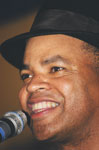 Guy Davis - click to enlarge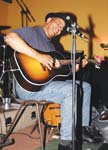 Guy Davis celebrates a succesful gig with a fan - Lisa from Southampton - in the Riverside Music Room Bar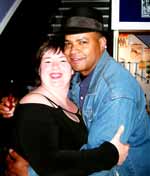 Smokestack - "...hugely, satisfyingly enjoyable" on the Main Stage - 2004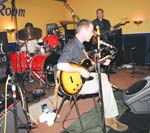 Smokestack's Ali Van Ryne - drums and Roger Ferris - Bass. Main Stage - 2004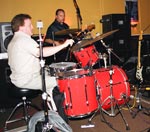 Friday Night 14th May 2004
The Manx Radio Outside Broadcasting Unit outside the Main Stage as Saturday Night goes out live on Manx Radio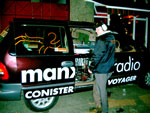 Tim Hain & Worx? Well, Tim and Worx had been on the phone all afternoon giving us ever more frustrating updates of their delay in London. We had Manx Radio's Outside Broadcast Production Team standing by, a sold-out evening and the clock ticking ever closer to kick-off. Eventually we had to face it, Tim was irretrievably stranded on an aircraft that wouldn't er start...or something like that. What to do??? Who would step into the void at the 11th hour and the 59th minute? Panic stations all 'round. With the kick-off for the evening session drawing ever closer and with time passing rapidly, we scratched our heads, made a few calls, ran roound in circles and eventually tracked down Molly Brown who were sound checking at The Bridge Inn. Would they? Could they? Pleeeeeease. "Yes" they said "of course we''ll do it, whatever you want, just point us in the right direction". We should have known; Molly Brown are good people, the best. Phew, blood pressure back to somewhere near normal - yeah, right...


Kelly of Molly Brown gives it everything at this year's Festival - click to enlarge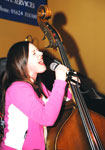 So at 8.30pm on the dot Kelly, Paddy, Mark and Kel jumped into the void left by Tim's absence and performed a beautifully crafted set that had the Main Stage Audience smiling with pleasure and appreciation. The band just get better and better and although they had less than an hour to prepare for this performance, and were due to headline the Bridge Inn later on the same evening, it was nonetheless a particularly impressive display of cool as well as musical virtuosity and we are indebted to them - again.

As Molly Brown raced back to the Bridge,

Wheatbread Johnson conducts the band as the audience warmly applaud a storming performance - click to enlarge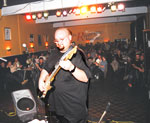 Wheatbread Johnson stepped on stage and with a blast from his battered, sunburst "Strat", which pinned the ears back of even those at the back of the hall, blasted into a storming display of guitar gymnastics which had those of us with a weakness for air guitar once again scrabbling for some "air" notes. This guy went form 0 to 100mph in an instant and then stayed there for a solid hour of high decibel, high energy, full on r 'n b.



Marcus Malone on the Main Stage at this year's Festival - click to enlarge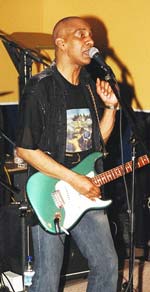 The Marcus Malone Band came to the stage minus their keyboard player left behind in Birmingham (you can't have everything) but had the audience on their feet dancing in the aisles and shouting for more ...and more. Marcus gave it to them. Stage craft, charisma and musicanship were all on open display to be enjoyed and savoured and that we did. In fact Marcus and his men played so long that they damned nearly missed the transport back to their hotel. But they were great. Oh yeah, they made it back OK!

Saturday Night 15th May 2004

I did tell you that you would kick yourself if you didn't get a ticket for Watermelon Slim and was I right? In spades I was right, which makes a nice change...For twelve quid, just four smackeroonies per band (how cheap is that for goodness sake?) you could have had a ball. We did.



Watermelon Slim and his National - click to ENLARGE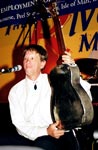 After a brilliant day of warm sunshine the sound engineers changed shift and sound checks began for the evening session. The Foyer of the Riverside Music Room was packed by 8.00pm as ticket holders waited for doors to open. 10 minutes late (a few sound issues had to be ironed out) and Watermelon Slim shuffled on to the stage and picked up his
battered old left-handed National Steel guitar (picture upper right) for what would turn out to be a spell binding performance, a

Slim being interviewd by Roy Macmillan of Manx radio - click to enlarge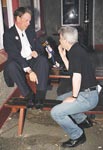 Festival highlight that we will remember for a long time to come and so much of it was live on Manx Radio and recorded by them for posterity which was just so lucky - the more we plan, the luckier we get.
This man, Watermelon Slim, lives the blues - it is etched into every line on his face and oozes from every pore of his wiry frame and he shared with us lucky few on Saturday night some of the experiences and emotional journeys that he has travelled throughout his eventful life. Vietnam Veteran, anti-war campaigner, multi-lingual, highly educated and family man that he is, he had a lot to say to us and we listened and applauded.



Guy Davis & Watermelon Slim "one of those rare moments of symbiosis, of synchronicity between two men on the top of their form who by sheer good fortune happened to be in the same place at the same time" Main Stage - 2004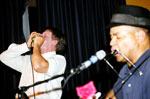 Guy Davis followed Slim but wouldn't let him go and asked him to stay on with his harmonica. We were then treated to a set of powerful Blues that satisfied even this blues hungry audience who just couldn't let either Guy or Slim give way to Smokestack - not for a while anyway. It was just one of those rare moments of symbiosis, of synchronicity between two men on the top of their form who by sheer good fortune happened to be in the same place at the same time and who had never met before and just clicked with one another from the first moment. It was a moment to be savoured long in the memory and we were lucky as music fans to bear witness.



Smokestack

Smokestack - "...hugely, satisfyingly enjoyable" on the Main Stage - 2004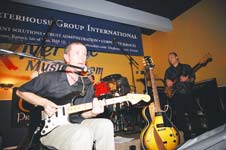 Phil Mills of Smokestack on the Main Stage - 2004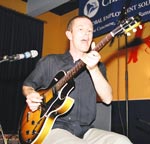 Time eventually did what it always does and the hour came for Slim and Guy to exit stage right, meet some fans, sign some CD's and enjoy a great set from Smokestack who had the unenviable task of following them.

But boy oh boy do these boys know how to play. In Roger Ferris (Bass) and Ali Van Ryne (Drums) you have a rhythm section of the very highest quality and Phil Mills, guitar virtuoso, harp player and singer par excellence - and I defy you to find a more passionate performer than Phil - Smokestack are the musical equivalent of E=mc˛ - the perfect equation or, perhaps, a force to be reckoned with. They told me earlier in the day that their favourite kind of gig is the Festival gig. Why? I asked. The answer is simple; at Festivals you have a whole bunch of people who come together for one reason - live, Blues right there in your face and these blokes love the blues, they like jazz but they just love the blues. So, unenviable as it was to follow Guy and Slim, Smokestack were more than up for the task and the quality of their musicianship was both unmistakable and, for the well-past-midnight crowd, hugely, satisfyingly enjoyable.

Many thanks to Trevor Burgess for the photography - really good, comprehensive coverage. Thanks too to Roy Macmillan at Manx Radio for making the Live Broadcast from the Main Stage and Festival Highlights Show happen. Thanks, in fact, to everyone who worked on the Main Stage project this year - and all volunteers every last one of them.