FESTIVAL FORUM
Debate, discussion and argument - gear, bands and gigs - it's your call
PROGRAMME
What's on? Click to find out
All the bands, venues and times
2004 FESTIVAL ARTISTES
The who's who of Festival 2004; pictures, links, the lot
ARTISTES
Many of the Fest bands and musicians who have appeared over the years Bio's, pic's and loads of info.
2004 GIG REVIEWS
Photo's and Gig Reviews of ALL the stages/venues of Festival 2004
PREVIOUS FESTIVALS
Vast archive of Photo's and Gig Reviews of Previous Festivals
ACOUSTIC STAGE
The "Acoustic Stage" (in reality an eclectic mix of music from Delta Blues to flat out rock) at The Shore Hotel has it's own website which is now updated with new pictures and info..
SPONSORS
Without our sonsors
there would be no
Fest - Who are these
generous people?
ISLE OF MAN BLUES CLUB
The Manx Blues Club; where the Festival sprang from
venue, dates, history etc..
TICKETS
The Festival is mostly FREE
but which stages require tickets?
Click here for all the info
ARTISTES
Bio's, pic's and loads of info on most of the artistes that have ever appeared.
VENUES
Info & Location
NEWSLETTER: SUBSCRIBE NOW - FREE
Be in the know...first
CONTACT US
Keep us in the know
MAP
Where is it? Here!
Includes Photo's of Laxey
TRAVEL
How to get to the Isle of Man
Stage: MAIN STAGE GIG REPORT 2003
Photo's and Report on the
Charterhouse International Blues Pavilion
Main Stage
Stage: ACOUSTIC STAGE
The Acoustic Stage has it's own web
site. You can check out: Previous
fest.s, pictures and details.
Domicilium: Internet Providers to the Festival

Bushy's Big Wheel Blues Festival 2003 is a fund raising event for the British Red Cross. Please give generously.

<! - - - HEADLINE HERE - - - > Mr Riff Rocks Orkney
<! - - - DATELINE HERE - - - > 24th September 2005 <! - - - END dateline - - - >

<! - - - IMAGE HERE - - - >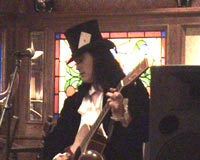 <! - - - END images - - - >

<! - - - EDITORIAL HERE - - - > Manx Muso, Mr Riff, made his first visit to the Orkey Blues Festival last week and so far as I know this was the first playing visit to the Festival by any Manx musician so congratulations Baz.

In an email to the Festival Website Mr Riff said: "The people were wonderful and very friendly, the gigs were well organised and the reception we got was fantastic. I played an impromptu couple of tunes at The Reel in Kirkwall on Thursday night at a blues club night (I had only popped in for a pint).



The festival began on Friday night with a gig at The Ferry Inn . I have never seen so many people in such a small space ever. (and) everyone was up for a night of boogie.

The gig on Saturday was another good one, with slightly more room this time, at The Royal Hotel. The last gig was the best. I was told that no one had ever played in The Flattie Bar of The Stromness Hotel before. When I saw the size of it I realised why - it was tiny. But no one cared they just piled in. If you wanted money out of your pocket it was easier to ask someone else... they were nearer. But it was brilliant. At one stage there was three hands playing my guitar, and I'm pretty sure I've only got two.

I worked out why Orkney seemed so much like home; the weather. It never stopped blowing. They have a saying on the Island, If your hat blows off, go look for it in Norway.

Overall (my trip) was a total success, I sold a load of CD's and a lot of people expressed an interest in Mr Riff for other festivals. I also made the (local) paper this week, Orkney Today, and there's a big pic of me gurning for Britain!" <! - - -END END END EDITORIAL END END END - - - >

<! - - - WEBSITE LINKS HERE - - - >

More on the <! - - - DETAILS HERE ---> The Orkney Blues Festival here

More on Mr Riff here
<! - - - END LINKS HERE - - - >


eMail your reaction to this News Item by clicking here <! - - - END editorial - - - >
<! - - - OTHER NEWS - - - > &nbsp&nbsp&nbsp&nbsp&nbsp&nbsp&nbsp&nbsp&nbsp&nbsp OTHER NEWS: <! - - - END other news - - - >