FESTIVAL FORUM
Debate, discussion and argument - gear, bands and gigs - it's your call
PROGRAMME
What's on? Click to find out
All the bands, venues and times
2004 FESTIVAL ARTISTES
The who's who of Festival 2004; pictures, links, the lot
ARTISTES
Many of the Fest bands and musicians who have appeared over the years Bio's, pic's and loads of info.
2004 GIG REVIEWS
Photo's and Gig Reviews of ALL the stages/venues of Festival 2004
PREVIOUS FESTIVALS
Vast archive of Photo's and Gig Reviews of Previous Festivals
ACOUSTIC STAGE
The "Acoustic Stage" (in reality an eclectic mix of music from Delta Blues to flat out rock) at The Shore Hotel has it's own website which is now updated with new pictures and info..
SPONSORS
Without our sonsors
there would be no
Fest - Who are these
generous people?
ISLE OF MAN BLUES CLUB
The Manx Blues Club; where the Festival sprang from
venue, dates, history etc..
TICKETS
The Festival is mostly FREE
but which stages require tickets?
Click here for all the info
ARTISTES
Bio's, pic's and loads of info on most of the artistes that have ever appeared.
VENUES
Info & Location
NEWSLETTER: SUBSCRIBE NOW - FREE
Be in the know...first
CONTACT US
Keep us in the know
MAP
Where is it? Here!
Includes Photo's of Laxey
TRAVEL
How to get to the Isle of Man
Stage: MAIN STAGE GIG REPORT 2003
Photo's and Report on the
Charterhouse International Blues Pavilion
Main Stage
Stage: ACOUSTIC STAGE
The Acoustic Stage has it's own web
site. You can check out: Previous
fest.s, pictures and details.
Domicilium: Internet Providers to the Festival

Bushy's Big Wheel Blues Festival 2003 is a fund raising event for the British Red Cross. Please give generously.

<! - - - HEADLINE HERE - - - > Robbery Under Arms
<! - - - DATELINE HERE - - - > 22nd October 2005 <! - - - END dateline - - - >

<! - - - IMAGE HERE - - - >

Brighton Post Office (Adelaide, South Australia) - Click to Enlarge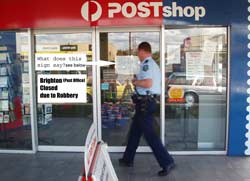 <! - - - END images - - - >



<! - - - EDITORIAL HERE - - - > South Australia is one of the seven states and territories of Australia that was not originally populated by Britain's overflowing, 19th century convict population. Rather it was the tough, resolute, hard working and totally committed battlers and colonialists as well as the shysters, remittance men, conmen, and women of doubtful virtue who were determined on a new life and who set out Adelaide's (the State's capital city) grid system of streets, parklands and boulevards and who scratched a hard living from the parched and arid farming country. It was these same hardened people that dug out the copper and mineral mines and who eventually succeeded, against all the odds, in establishing themselves in the driest state on the driest continent on earth by harnessing, in the unforgiving climate, the life giving power of the mighty River Murray to their own bloody, relentless, hard work.

Over time and virtually unnoticed, they also created one of the nicest beach suburbs in Australia and which is almost entirely unknown to the world's tourists. It is here in the "Lucky Country" in this now quiet, ordered and pleasant place that I am lucky enough to spend some time and from where on occasion I send the odd post card boasting of the sun, sand and excellent South Australian wine as well as posting news of the Blues artistes passing through and playing in town (you might have seen Eric Bibb, The Bluesbreakers, Eugene "Hideaway" Bridges, The Blind Boys of Alabama, The Fabulous Thunderbirds, Guy Davis, Steve Earle and others at one time or another if you were of a mind).

So, it was yesterday that I wandered down to

Brighton Post Office closed due to...robbery.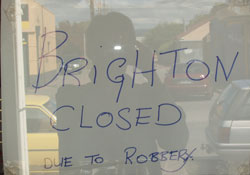 Brighton Post Office (just around the corner from my pleasant camping spot in Seacliff, handily situated close to the railway - a little too close some might suggest if they were feeling mildly critical) intending to post some long overdue cards back home to the Isle of Man. But on this occasion, try as I might, I was unable to get the door open. Slow on the uptake (I was thinking about Les Paul and his 90th birthday) it took me a while to realise that all was not as it should be. Eventually I figured it out - the handwritten sign (see above right) was a very definite clue - the wretched place was closed. Due to, would you adam and eve it, robbery. Now that is not something you see every day, even down under. So I took a couple of pictures with the old box Brownie which, for once, I just happened to have handy.

I am glad to say that the knife toting blagger was later caught and charged. He had inexplicably climbed on to a nearby roof where the vast numbers of police toting handguns, radios and, naturally, clipboards eventually spotted him, in between traffic duty, after Post Office staff, who had followed the 38 year old crim, pointed him out. No wonder it's called the lucky country. <! - - -END END END EDITORIAL END END END - - - >

<! - - - WEBSITE LINKS HERE - - - >
More on South Australia here

The best place to catch the Blues in Adelaide is probably The Governor Hindmarsh
<! - - - END LINKS HERE - - - >


eMail your reaction to this News Item by clicking here <! - - - END editorial - - - >
<! - - - OTHER NEWS - - - > &nbsp&nbsp&nbsp&nbsp&nbsp&nbsp&nbsp&nbsp&nbsp&nbsp OTHER NEWS: <! - - - END other news - - - >